We are pleased to announce two new releases of Notebooks which provide full compatibility with iCloud Drive. Users can now set Notebooks to store documents on iCloud Drive and automatically synchronize them to devices connected to the same account. This is the most convenient sync option currently available in Notebooks, and it takes just a few clicks or taps to set up. All the details, guidelines and tips are available in the our documentation.
To take full advantage of iCloud Drive and automatic sync, you should use Notebooks 11 for iPhone and iPad, and Notebooks 2.4 for Mac. Both version are free upgrades for users of Notebooks 10 and Notebooks 2.3, respectively. To learn more more about these upgrades, please refer to Notebooks 11 for iPhone and iPad and Notebooks 2.4 for Mac.
Manage Separate Sets of Documents
To take things a step further, Notebooks for iPhone and iPad provides an option to manage one set of documents stored in Notebooks' local storage, and another one stored on iCloud Drive. With a simple flick of a switch, users can toggle between these sets. This is a convenient way of separating business documents from private files, or confidential from public records.
Multiple Custom Storage Locations (In-App Purchase on iOS)
In Notebooks for iPhone and iPad, an in-app purchase unlocks the option to select custom storage locations and manage multiple sets of documents. Users can pick any folder on device, on iCloud Drive or even on a connected device. They may create new folders, select existing ones, or point Notebooks to the Documents folders in other apps. Notebooks remembers the previously selected locations, which makes it easy to manage as many sets of documents as you like.
By pointing Notebooks to another app's Documents folder you make Notebooks the editor for the documents stored in that app.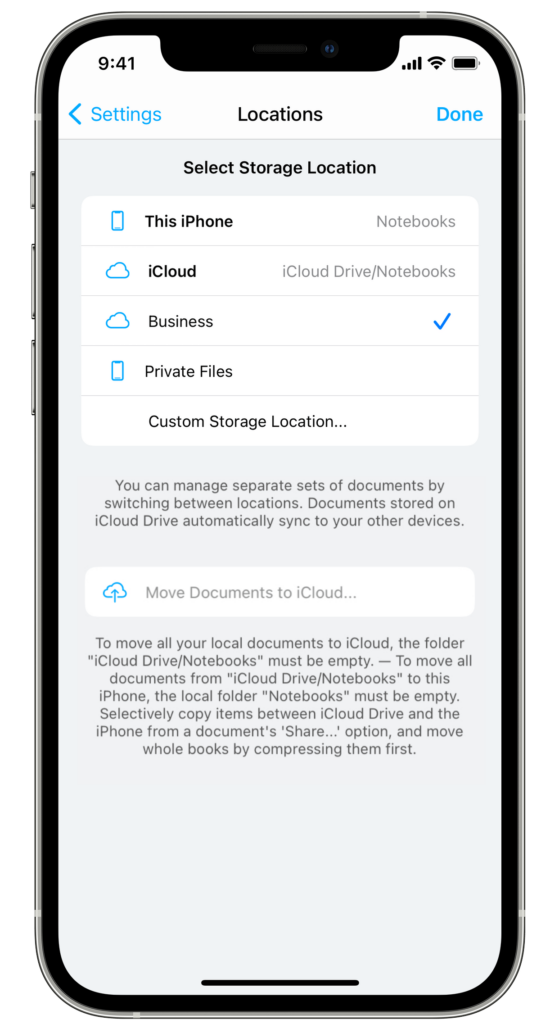 External Storage Locations
Selecting a connected drive or USB stick as storage location provides maximum privacy and portability for your documents. Moving the drive from iPhone to iPad to a Mac, you can always work on the same set of documents. There is no need to synchronize through a cloud service, and you stay in full control of your documents.
Custom Storage Locations on a Mac
Notebooks for Mac has always had the option to select custom storage locations, so nothing has changed here.

Notebooks Adds Support for iCloud Drive and Custom Storage Locations