Notebooks for Mac

Start creating documents with styles, attachments, tables and checklists, or drop any kind of document into Notebooks. File them in as many nested books as you need to structure your projects and details. Add task lists or simple checklists, divide large projects into nested sub projects, which makes them easier to handle, cross-reference into your reference library – which may be any book or document in Notebooks – and Notebooks for Mac may soon become the central repository for everything you want to keep close at hand.
Notebooks for Mac provides all the tools you need to concentrate on your work and be productive – on your Mac. Formatted documents, plain text and Markdown, the fullscreen modes, dark mode, multiple tabbed windows, breadcrumbing navigation, smart books, word count or the option to compile multiple fragments into a single document or eBook are just a few examples.
Of course you can synchronize the contents of Notebooks between your iPad, iPhone and your Mac, so you can seamlessly work on your documents on any device.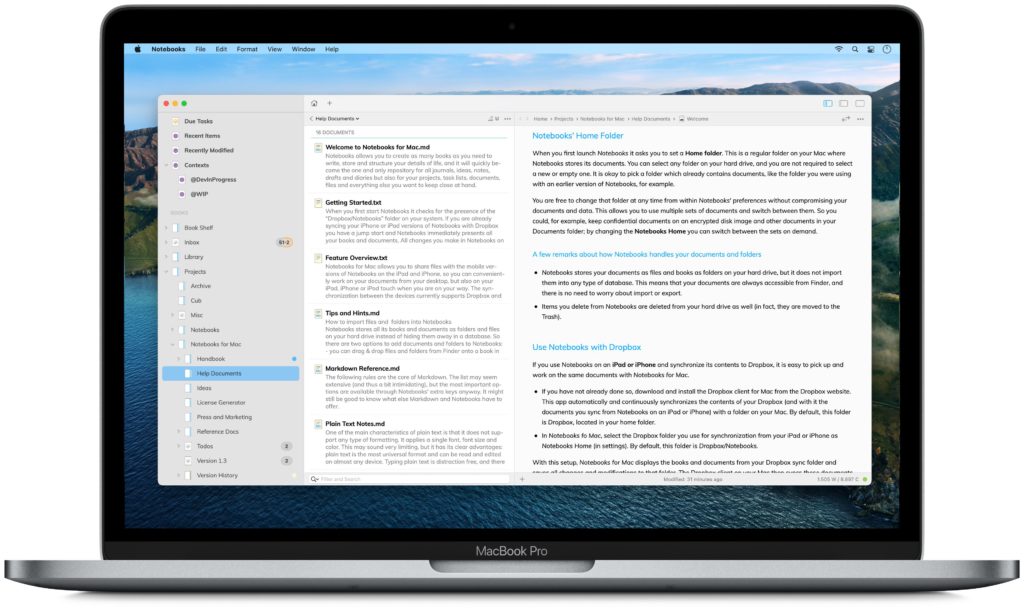 Download Trial / Buy direct or from Mac App Store
---
Notebooks 2
Notebooks for Mac 2 is a major update from Notebooks 1.4 with countless improvements and innovations. We rebuilt it from scratch with the goal to better integrate it with macOS, make it future proof and much extend its functionality. – Notebooks 2 is a paid upgrade for users of Notebooks 1.x.
New in Notebooks for Mac 2.4
Improved iCloud Drive Support: you can now use iCloud to sync your documents between iPad, iPhone (Notebooks 11 for iPad and iPhone) and your Mac.
Solarized user interface style, as an alternative to the macOS standard colors.
Colorized syntax highlighting for Markdown.
Create flowcharts using Mermaid in Markdown.
New editing functions in plain text (move lines up and down, sort selected, etc.)
Performance improvements and corrections.
What is New in Notebooks for Mac 2
Notebooks 2 is now Mac native, so it fully integrates into the macOS environment, looks and works like Mac app.
Open documents in separate windows or tabs. Notebooks remembers open windows and tabs between restarts.
View and edit external documents by dropping them onto Notebooks' icon.
Convenient document only and full screen modes with options to change the window's background color.
Each window shows a bread crumbing navigation at its top, which makes it easy to quickly navigate to any other document without using outline or document list.
Support for Context tags including automatic extraction from documents.
Smart books for Recent Items and Recently Modified items.
Formatted documents now provide

table support to create and edit tables,
indented checklists with clickable checkboxes
a Table of Contents which you can add at any position in a document and which updates as you edit the text,
a wider selection of document styles

Plain text documents can

display line numbers,
highlight the currently edited line,
pin the current line to a specific position,
sort selected lines,
apply bottom overscrolling, etc.

Markdown support has been improved, too

Click a formatted Markdown document to immediately start editing at that position.
MultiMarkdown is available as an alternative Markdown converter.
Markdown checklists (- [ ]) are supported with Notebooks' default Markdown converter. The checkboxes can be toggled from the formatted view.
Wiki style links [[]]with auto expanding file paths for setting the target.

Allow Notebooks to automatically extract tasks from the contents of your documents.
Import documents or snippets through the Share… menu or one of Notebooks' Services.
Compile documents and books to create a single editable document, an eBook or a PDF document.
Option to hide Notebooks' plist files in Finder.
Import documents from Evernote with just a few clicks.
There is much more to discover in Notebooks 2. A look at the Version History reveals the changes in detail. Meanwhile we are working on and extending in app help and documentation.


Notebooks 2 requires macOS 10.11 or later, and for best experience, Spotlight search should be enabled on the drive that is holding your documents.
FAQ – Notebooks for Mac 2
"Notebooks has been Compromised" – What has Happened?
Synchronize Documents Between Notebooks on your Mac and iPad or iPhone
Synchronize Notebooks for Mac with iPad and iPhone via Dropbox
Should you purchase Notebooks from the Mac App Store or from us directly?
How to Redeem a Coupon Code
How to Search the Contents of Notebooks 2
Migrate from Evernote to Notebooks 2
Are there any recurring fees with Notebooks 2 ?
Does Notebooks 2 require a new license?
Migrate from Notebooks 1.x to Notebooks 2.0