Notebooks for iPad and iPhone
Notebooks for iPad and iPhone comprises the functionality of a set of different apps: it is a Note Taker, a Word Processor, Markdown Editor, HTML to Markdown converter, a Task Manager, a File Organizer, a Clipboard manager, PDF converter and PDF Reader, an eBook Creator, a Document Converter and much more.
Declutter Your Home Screen
Having all that in a single app avoids cluttering your iPad or iPhone with countless apps, but what is even more important: it allows you to stay focussed on your work and remain in a consistent environment rather than switching between apps and contexts. And that makes you and your workflow more efficient.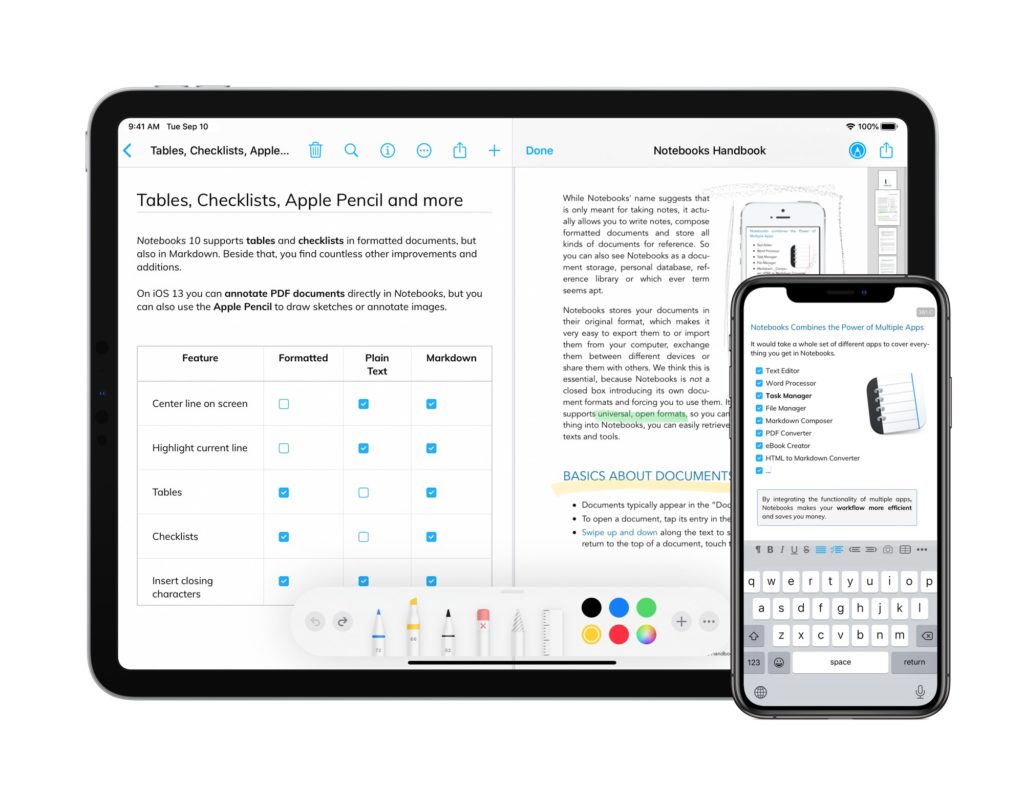 What's New in Notebooks 11
iCloud Drive Support: you can now use iCloud to sync your documents between iPad, iPhone and Mac (Notebooks for Mac 2.4).
Manage separate sets of documents (local and on iCloud Drive) and switch between them anytime. – With an optional in-app purchase you can select custom storage locations, work on other app's documents and even store your documents on connected drives or USB sticks.
Solarized user interface style, as an alternative to the iOS standard colors.
Colorized syntax highlighting for Markdown.
Create flowcharts using Mermaid in Markdown.
New editing functions in plain text (move lines up and down, sort selected, etc.)
Performance improvements, corrections and user interface refinements.
All the details are available in a separate article.
Notebooks 11 for iPad and iPhone is a major upgrade and comes with many changes, improvements and additions. It runs on iOS 12 or higher, and it is a free upgrade for all users of Notebooks 10.

---
To find out what was new in Notebooks 10, refer to the related blog entry or to the version history.
FAQ
What is the Difference Between the Paid and the Free Version?
Troubleshooting Notebooks 8 on iOS 14
Migrate Documents from Notebooks 8 to Notebooks 11
Where is the Optional PDF Reader in Notebooks 11?