This article was originally written to describe the migration from Notebooks 8 to Notebooks 10, but it is still valid for Notebooks 11, too.
---
If you are upgrading to Notebooks 10 from Notebooks 8.11.4 or later, you probably want to migrate your existing documents to the new version. Notebooks 10 makes that easy, without duplicating your data.
If you are still using Notebooks version 8.11.3 or earlier, and if you cannot upgrade to the latest version of Notebooks 8 from your App Store account's Purchased Items, automatic migration as described below is not an option. However, you can still use the strategies that we recommended for the migration from Notebooks 6. – And if you are using Dropbox sync or WebDAV sync, you can of course just reimport your documents from the respective services.
The Migration Process
When you launch Notebooks 10 for the first time and Notebooks 8 is installed on the same device, you will see the following screen: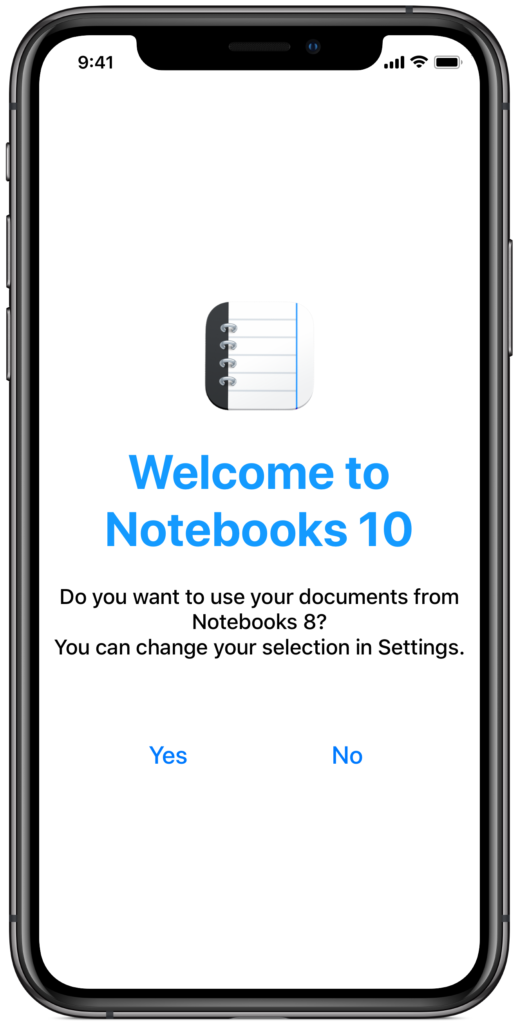 Select Yes to start sharing documents between Notebooks 8 and Notebooks 10.

Notebooks 8 briefly opens to move its documents to a shared container.
It then takes you back to Notebooks 10, where you find all your documents as you left them in Notebooks 8.
We recommend to briefly check your settings (sync settings especially), and you are ready to pick up your work.
As your documents are shared between the two versions you can now use them in Notebooks 8 and Notebooks 10. Any changes you make in either version are reflected in the other.
At any time you can select stop sharing from Notebooks 10(Settings > General). With that, Notebooks 10 moves your documents into its local repository, and Notebooks 8 can no longer access them.


This is the recommended procedure for migrating your documents from Notebooks 8 to Notebooks 10 and abandoning Notebooks 8 if you do not want to reimport your documents from Dropbox or your WebDAV server.

As a variation, you can stop sharing in Notebooks 8 (Settings > General), which moves your documents back to its local repository, where Notebooks 10 can no longer access them.

If you select No from the welcome screen, you set up Notebooks 10 with a local, independent set of documents.
Cleanup After Migration
With step 1. above, Notebooks 8 copies your documents, sync settings, protection settings etc. and makes them available for Notebooks 10. We still recommend a few clean up steps:
Notebooks 8 has transferred your most important settings, but not all. So this may be a good time to revisit Notebooks'preferences, adjust them to your taste – and find out what is new.
The Due Tasks smart book may be missing although you have due tasks. In that case, just open a book and return back to the top level. Now the smart book should be visible.
If you have been using Dropbox sync, your settings have been transferred. You still need to log in to Dropbox from Notebooks 10 to give it access to your Dropbox. Now you can trigger a quick sync and Notebooks 10 will continue where Notebooks 8 left off (you don't need to re import all your documents from Dropbox).
The same applies to WebDAV sync, by the way.
Turn on Sharing Manually
If automatic migration does not work as expected, or if you prefer to perform this step manually, here is what you do.
In Notebooks 8, open Settings > General and scroll to the bottom; here you find a switch "Share Documents Across Notebooks Versions on this Device". Turn that on and Notebooks 8 moves its documents to a shared folder. – You can even do that before launching Notebooks 10 for the first time.
In Notebooks 10, open Settings > General and look for the setting "Switch to Documents Shared Across Devices" to tell Notebooks 10 to use the shared documents. – If you already activated sharing from Notebooks 8 before launching Notebooks 10 for the first time, Notebooks 10 will immediately display the shared documents.
Sharing – What to be Aware Of
Sharing allows you to use the same set of documents in more than one version of Notebooks on the same device. To make that possible, Notebooks moves your the documents to a so called shared container, which all versions of Notebooks can access. When using Notebooks in this mode, there are a few things to be aware of:
Any changes you make in one version of Notebooks will be reflected in the other version(s) as well. So if you delete a document from Notebooks 10 it is gone from Notebooks 8 also.
When Notebooks is set up to share documents, its contents is not accessible from the Files.app and other apps on the device. So in the Share Sheet you will see "Copy to…" instead of "Open in…".
To make your documents accessible in other apps, stop sharing in Notebooks 10. This moves the documents to the local container in Notebooks 10. – You can move the documents back to the shared container again anytime.
Use the option to show version number on the app icon to differentiate between Notebooks 8 and Notebooks 10.
Deleting one version of Notebooks while documents are being shared does not affect the documents. Removing both Notebooks versions deletes the documents as well.
Migrate from Notebooks 8 to Notebooks 10