Notebooks
Create beautiful documents or quickly write down notes.
Manage complex projects or set up simple task lists.
Collect and organize all your files and records.
Sync between your iPad, iPhone, Mac and PC.


---
---
Formatted Documents, Plain Text, Markdown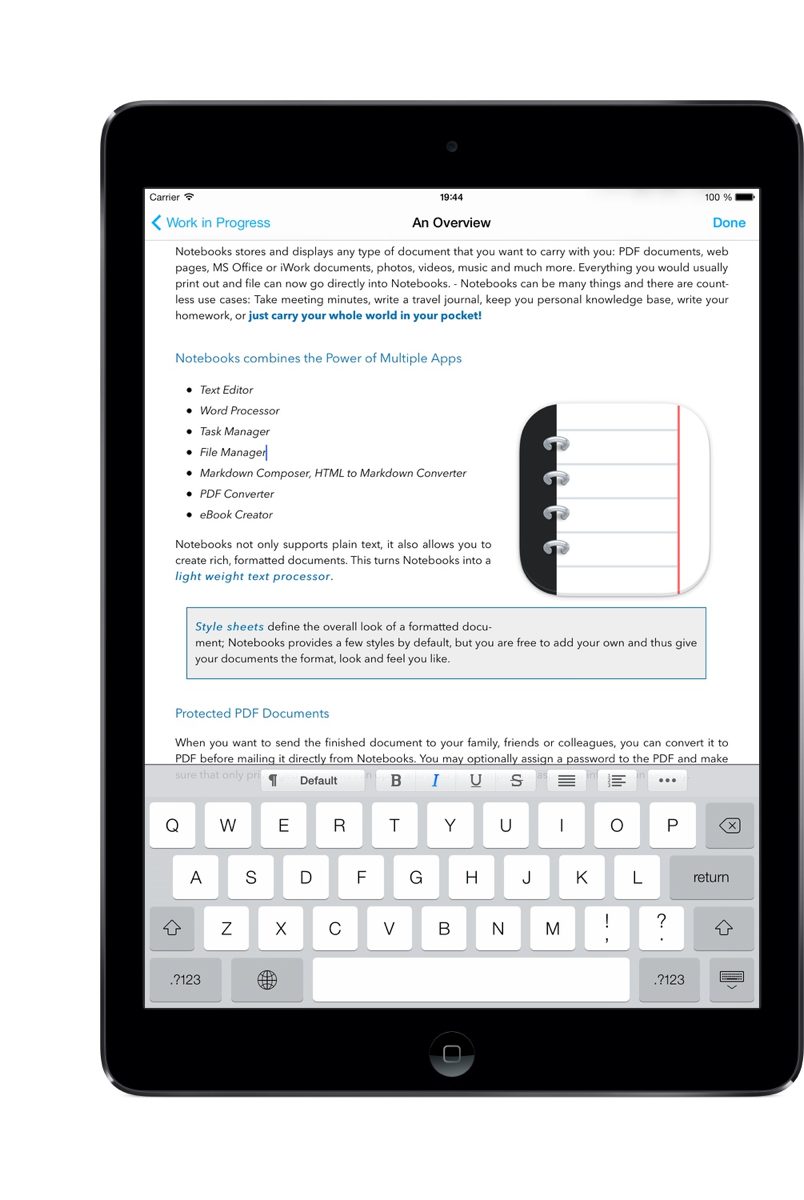 No matter whether you want to quickly put down a note or carefully craft a formatted document with styles and images, in Notebooks you can do both.


Create formatted documents using WYSIWYG style editing.
Type plain text notes if you prefer.
You can use Markdown to format your plain text. Notebooks converts the Markdown text to HTML for you.
Convert between these formats in a few steps.
Use style sheets to give your documents a distinct appearance.
Set up extra keyboard keys to quickly access special characters or phrases.
Convert your documents to PDF.
Create eBooks from your documents (currently on iPad and iPhone only)
You have even more options, as for example:


Create new documents from the pasteboard.
Import Photos from your camera or album.
Record voice memos (currently on iPad and iPhone only).
Sketch your ideas with your finger or a stylus (currently on iPad and iPhone only).
Notebooks saves your documents in standard formats like text or html, which ensures that you can open and reuse them on any device, without proprietary software, and even in 50 years from now.
---
Group and Organize Your Documents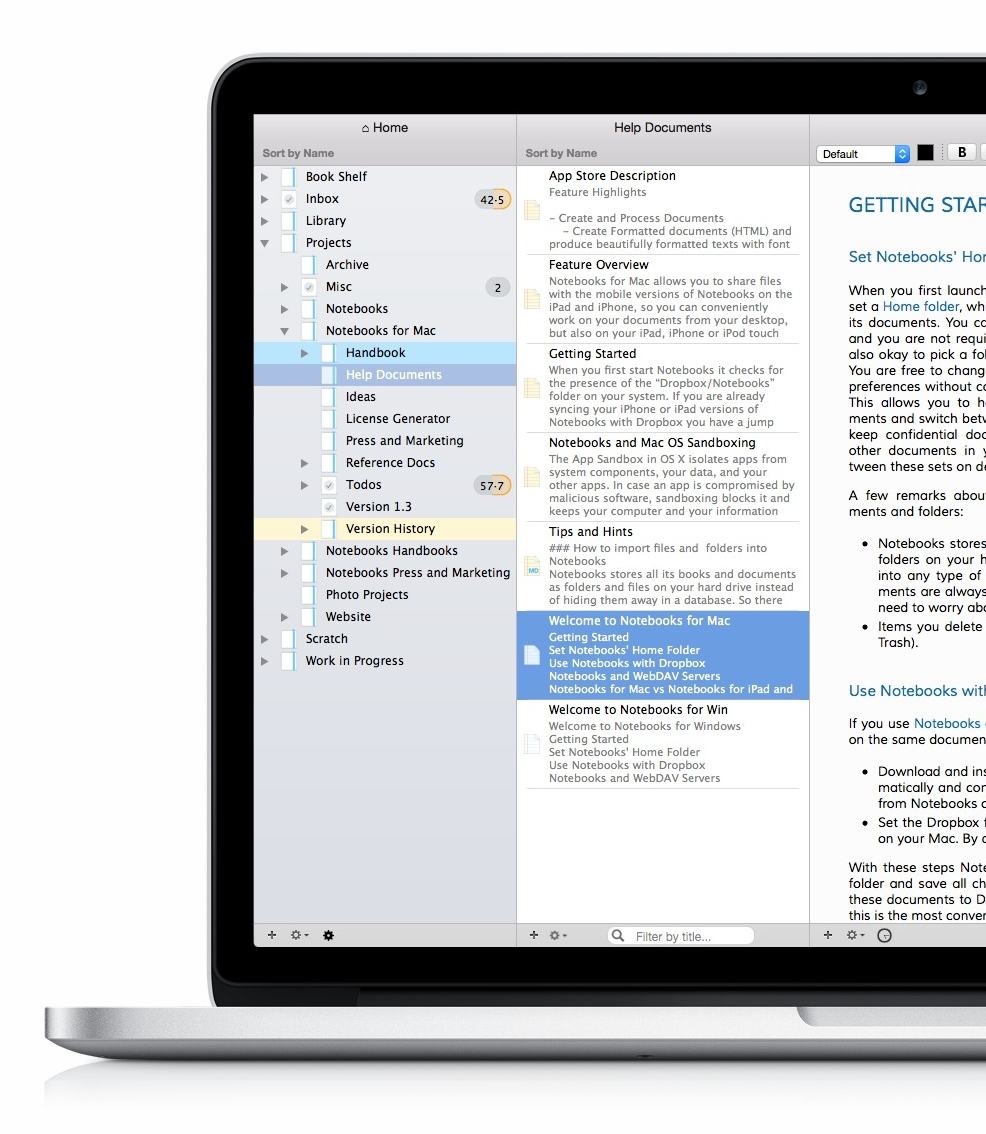 As the number of documents grows, structure and organization become increasingly important. In Notebooks you can create a book for each of your projects and subjects; if you want to further subdivide your documents, just go ahead and create a hierarchy of nested books.


Create as many books as you need.
Nest your books and create unlimited hierarchies.
Turn books into todo lists if you want.
Reorganize books and documents by moving them from one book to another.
Rename books or documents.
Turn on protection for confidential books or documents (currently on iPhone and iPad only)
This turns Notebooks into a file manager which, in contrast to other apps, allows you to organize your documents in unlimited hierarchies.
---
From Simple Task Lists to Complex Projects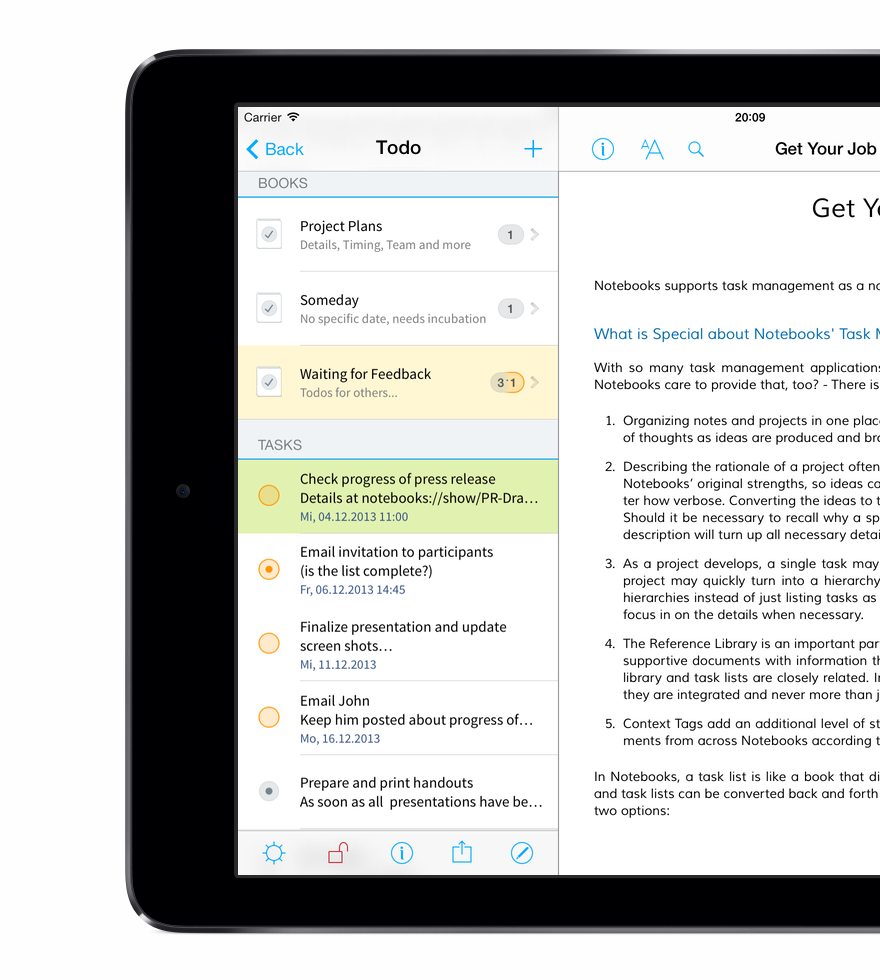 A simple note may spark off an idea, produce a list of todos and wind up as a project. Now you can conveniently integrate note taking with task management and stay focussed on your project – instead of switching between apps.


Turn any book into a task list with the flick of a switch.
Turn nested books into hierarchies of task lists.
Any document can be a task, so you can be as elaborate in your description as you like. You can also turn a sketch, a PDF or a voice memo into a task.
Let Notebooks automatically extract tasks from your documents or convert a document into a task list.
Assign due dates and alarm times and let Notebooks remind you of pending business. You can even have repeating tasks.
Assign tags to tasks and documents and get a consolidated view depending on your current working context.
There is no reason to manage your tasks in a separate app. Just keep them in Notebooks – along with your documents, memos, guidelines or handbooks – and you are set. Learn more…
---
Read and Annotate PDF Documents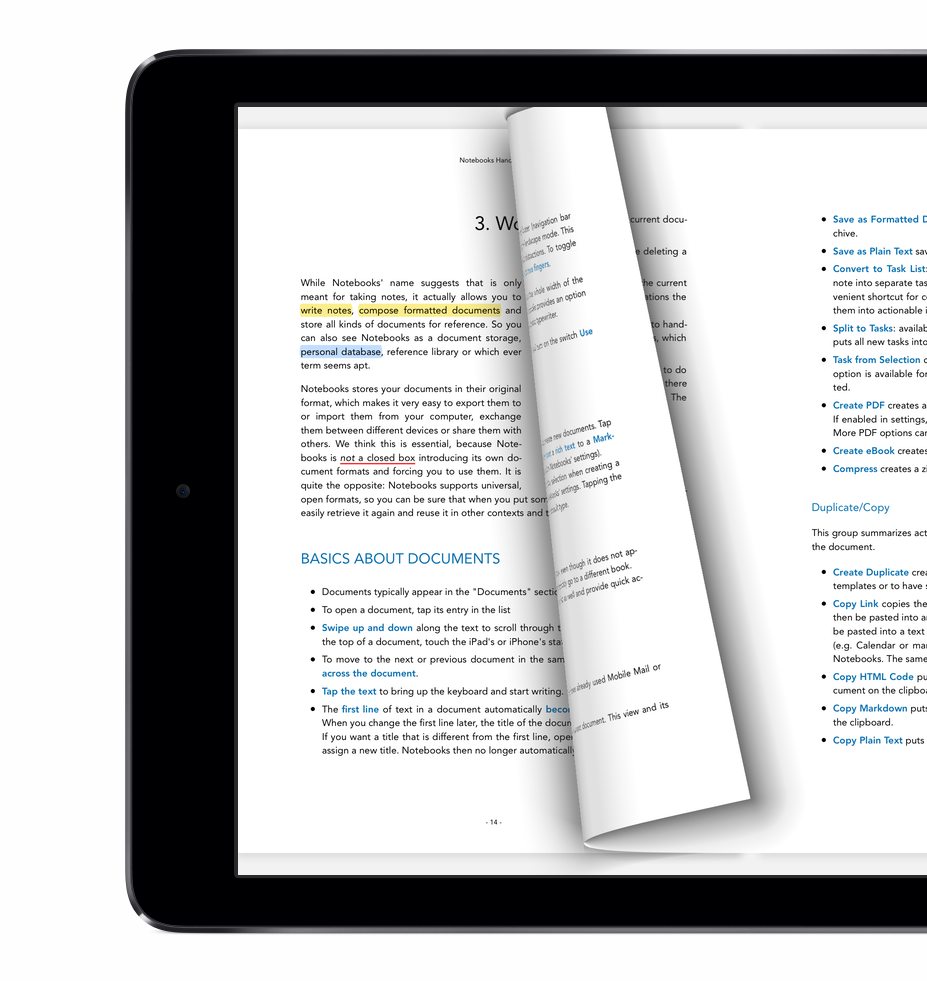 (In-App purchase for iPad and iPhone)
The addition of a full featured PDF reader was one of our users' most frequent requests. And we agree: when you already create and store PDF documents in Notebooks, you want to read, annotate and comment them, too.


Conveniently read PDF documents and swipe through them as if they were books.
Highlight and annotate phrases, add stamps, signatures, comments or notes. There is little you will be missing.
View a PDF document's table of contents, set your bookmarks, or view the summary of annotated pages.
Search the full text of PDF documents.
You will hardly find a more convenient and pleasant way of viewing, reading and annotating PDF documents. Learn more…
---
Store and Display almost any Document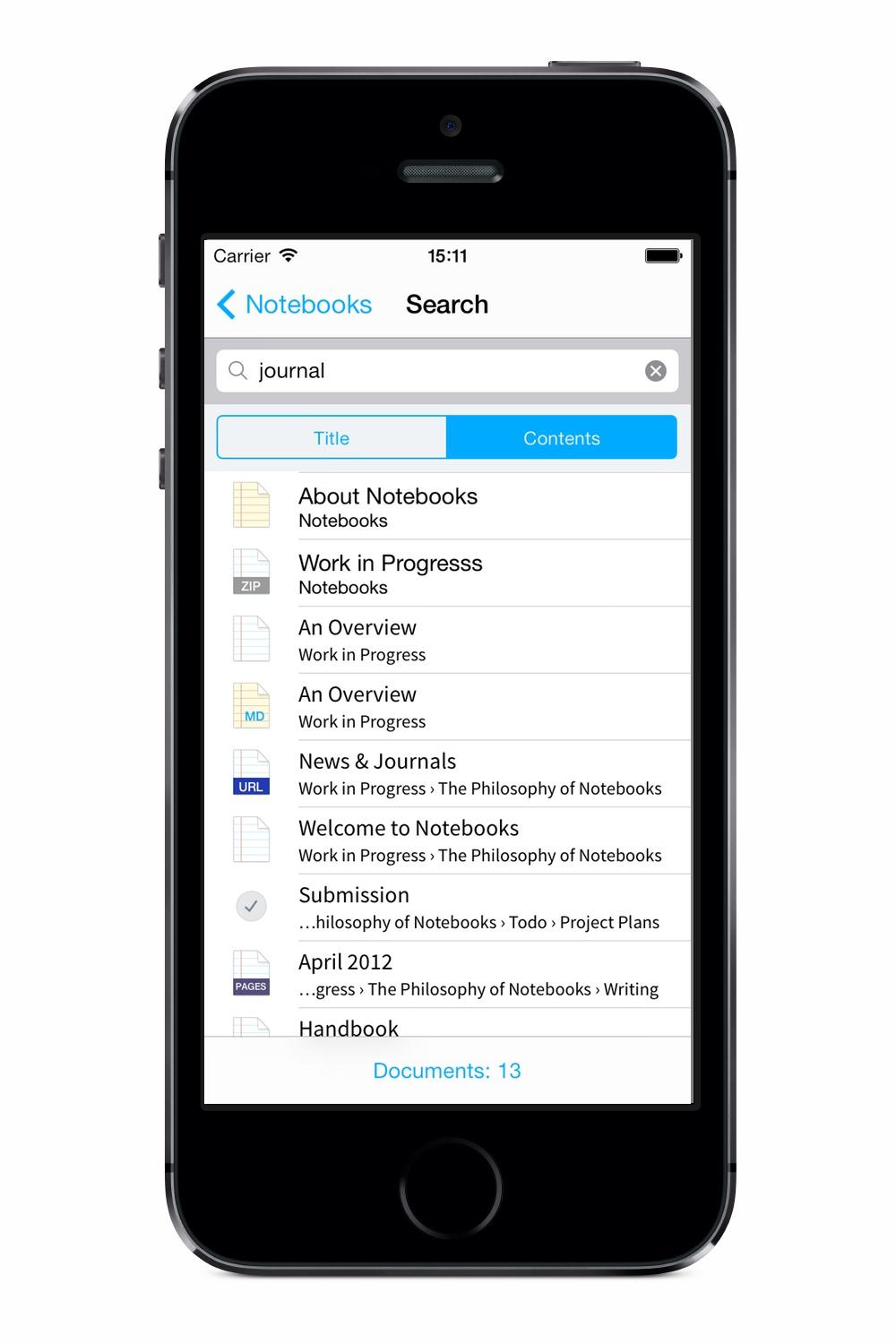 Do you have a PDF handbook, a chart, an email message, a presentation, or a couple of photos that you want to keep along with your notes, diaries and meeting minutes? – It is easy, just add them to Notebooks.


Store and display plain text documents, Markdown, PDF, iWork, Office, RTF and HTML documents as well as images, movies, web archives or email messages.
Import documents through available sync options, iTunes file sharing, or the built in WebDAV server.
Use "Open in…" and "Share" options to import documents or snippets from other iOS apps.
Search the full text of most of these documents for quick access.
As you add more and more documents to Notebooks, it continually increases in value and soon becomes the knowledge base you don't ever want to miss again.
---
Synchronize and Backup the Contents of Notebooks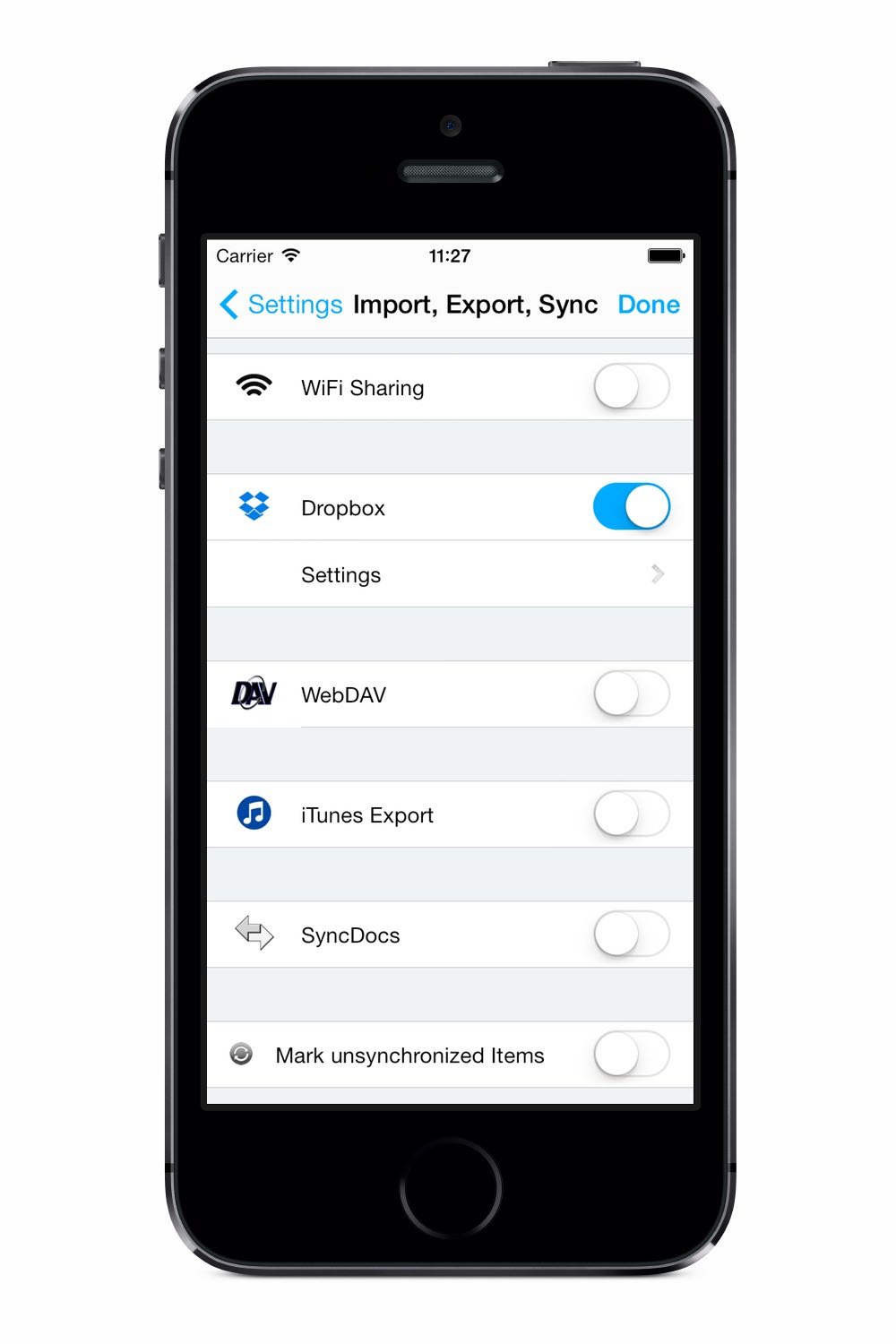 Having your documents with you on an iPhone or an iPad is one thing, but you probably also want to use and work on these documents from your computer. And you always want to be sure to have a backup of your documents in case your device gets lost or stolen. Notebooks offers several options.


Synchronize your documents with your Dropbox account.
Synchronize with your favorite WebDAV server – even one you install on your computer, in case you don't like cloud services.
Use the WebDAV server that is built into Notebooks for Mac and sync directly between your iPad, iPhone and Mac.
Use the WiFi Sharing option in Notebooks for iPad and iPhone to access your documents like an external hard drive.
If you use Notebooks on multiple devices, synchronizing each of them with your selected service ensures that the contents of Notebooks is identical on all devices. You can work on your books, journals, memos and todos wherever you are.

By the way: as you choose how to sync your documents, there is no risk we could ever access and read any of your data.
---
Multilingual and Voiceover
On iPhone and iPad, Notebooks supports English, Deutsch, Español and Français. Voiceover is supported throughout the app. Notebooks for Mac and Windows currently is available in English only.
---
Available on iPad, iPhone, Mac and PC
The iOS versions of Notebooks (there is one Universal version for iPad and iPhone, but also a separate version for the iPhone only) are available from the App Store. Notebooks for Mac is available from the Mac App Store as well as from this site. Notebooks for Windows is available from this site.
---