Notebooks 10.2 introduces new document icons, moves deleted items to a Trash, features strongly revised formatted documents, improves Wiki Links and introduces Backlinks, and adds many more improvements and corrections.
A Summary of What's New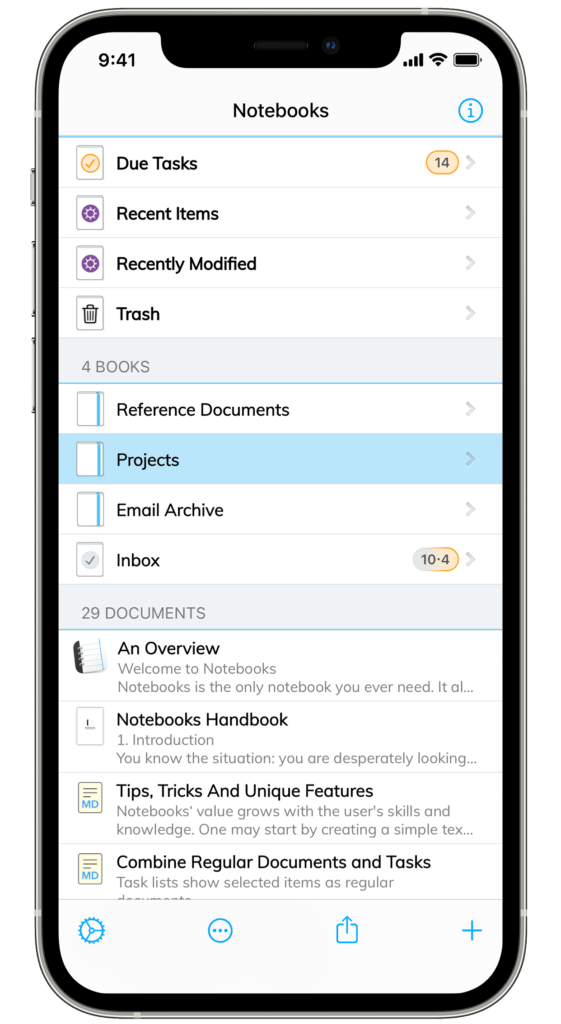 New document and book icons.
Notebooks 10.2 provides an optional Trash with multiple settings.
Formatted documents have been reimplemented to improve performance, do away with known issues, and remain compatible with future iOS/iPadOS versions.
Improved Wiki Links and Backlinks, now with a couple of advanced settings.
A new keyboard shortcut to start editing a document: cmd-return (It is the same shortcut you use to stop editing).
Refined document styles.
Updated calendar for viewing due tasks and setting due dates.
Many new options, settings and convenient actions.
The Changes in Detail
Deleted Items / Trash
Notebooks 10.2 moves deleted items to a trash and permanently deletes these items after one month. A set of preferences allow you to fine tune its behavior:
Set whether Notebooks asks for confirmation before moving items to trash.
Select how long items should remain in the trash before Notebooks deletes them.
Pick delete immediately to disable the trash (this is the behavior of former Notebooks versions).
Select manually to keep Notebooks from permanently deleting items from the trash; you need to empty the trash manually.
The Trash is a new smart book at Notebooks' top level. Open it to display the list of recently deleted items.
For each item in the trash you see when it will be permanently deleted and how many days are left.
Tap an item and decide to restore and open it at its original location.
Force touch an item for a preview and options to restore or permanently delete.
Swipe left across an entry to permanently delete immediately.
Swipe right to restore the item to its original location.
Use the Process (•••) button for bulk actions.
Attachments and embedded images (NBImages) are moved to trash once their containing documents have been permanently deleted. Thus, images are preserved in case the user decides to restore a deleted item.
Formatted Documents
Working with Notebooks' formatted documents has become more difficult over the past couple of iOS releases. Text selection became sketchy, dictation did not work reliably, formatting keys sometimes did not work as expected… The reason is that we originally based our formatted documents on an iOS module which is no longer actively maintained by Apple. So it was time to move on and adopt modern technologies.
When using formatted documents in Notebooks 10.2 you may not see a huge difference, and that is certainly intentional. Perhaps you notice that editing works more fluently and predictably, performance has improved and things generally work the way they should, but this is nothing you usually pay attention to. – So while overall functionality remains the same, we in fact reimplemented formatted documents from scratch, and that is where the main effort went over the past months. The changes also concern the formatted versions of Markdown documents, the display of Fountain documents and many more areas.
Notebooks 10.2 still adds a couple of new functions to formatted documents:
Dictation in formatted documents works as expected.
Link previews (long tap a link) and automatic activation of links are available.
Text selection is more reliable and predictable.
The new action Clean up Document removes redundant style info, which may be the result of pasting formatted text from websites. Earlier versions of Notebooks used to clean automatically, but that slowed down typing performance, and the changed appearance may have been unexpected.
New setting to center current line on screen while typing in formatted documents.
New setting to format the first line as title (H1). This used to be the default in previous versions.
New option to insert a page break from the ••• menu.
Improved display for formatted Fountain documents, especially on smaller devices.
Correctly highlight "combined search terms" when opening a formatted document from search results.
Fix a formatting problem in table headers after adding table columns.
Dragging a Notebooks document into a formatted document now always inserts a link rather than pasting the document's contents.
Wiki Links and Backlinks (Plain Text & Markdown)
Notebooks has been supporting [[Wiki Links]] for a while already, and with this update they receive a few corrections and improvements:
Wiki links are a quick and easy way of creating internal references to other documents in Notebooks: just add the title of the target document in double brackets. So with [[wiki reference]] you create a link to a document with the title "Wiki Reference"
Notebooks 10.2 reliably opens linked documents by trying to autocomplete their names if necessary.
When clicking a Wiki link (or any other Notebooks internal reference) and the target document does not exist, you can now create a new document and insert a so called backlink (a link back to the referencing document). This makes it easy to create cross references.
Pasting notebooks:// links into plain text or Markdown no longer produces broken links.
New setting to activate and highlight Wiki Links in plain text already.
Options to control how smart Notebooks may be when resolving internal links. In the case that a document with the exact title as given in the link does not exist, Notebooks may look for alternatives containing the link in their title, or even in their contents.
An example how Notebooks can autoresolve internal links: Given the link [[ophthalmology]], Notebooks would expect a document Ophthalmology.pdfor Ophthalmology.txt. – If no such document exist, Notebooks could resolve the link to the document Handbook of Ophthalmology.pdf, for example, but it could also resolve it to, say, a formatted document which contains the term ophthalmology anywhere in its contents. – This behavior can now be controlled in Notebooks' settings.
Documents – General
Notebooks 10.2 introduces new icons for books and documents.
Rename to First Line renames the current document to match its first line of text (available from the ••• menu).
Rename to Selection renames the document to the currently selected text (available from the ••• menu).
New keyboard shortcut: Start editing with cmd-return . Notebooks switches to edit mode and positions the cursor at the center of the screen.
When leaving Notebooks while editing a document, the keyboard no longer hides, even with Dropbox autosync enabled.
Fix the issue that moving documents could have deleted embedded images in rare cases (especially when the images' names contained special characters)
Timestamps now use the keyboard's language rather than Notebooks' system language (so you can add timestamps in Italian even if Notebooks is set to English; and if you change the keyboard to French, new timestamps will appear in French format as well.)
Disable timestamp actions and menus by deselecting all timestamp formats in Notebooks' settings.
iPad: When using a swipe gesture to browse to the next or previous document, that document's row scrolls to the center of the left column.
iOS 14: Try to avoid the "Notebooks pasted from…" message as much as possible – but sometimes it still shows up.
(To explain: starting with iOS 14, users receive a notification when an app examines the contents of the clipboard/pasteboard without being asked. This is the reaction on some apps' bad behavior of trying to collect sensitive data. – Notebooks sometimes examines the clipboard, too, but we do that only to adjust menus and show or hide actions based on available info. So Notebooks does not show an action like "New from Pasteboard" when there is nothing to paste; if the clipboard contains a valid URL, Notebooks shows "Import from URL". Notebooks has been doing that for years, and it is for your convenience only.)
Document Styles
Default Theme optimizes the size of images, especially in print.
Scientific + MathJax now embeds MathJax 3.
Scientific + Katex is a new theme that uses Katex for rendering mathematics.
When applying the styles, Notebooks minimizes them so they don't take up too much space (when viewing the source code).
Due Tasks Calendar
This calendar is available from the smart book Due Tasks and when assigning due dates from a task's info. It has been neglected for a while, but now received a couple of improvements. We are planning to make the calendar available in more places and contexts with future updates.
Updated interface, graphics and appearance.
The calendar now dynamically updates its contents and markers as tasks and task lists change (during sync, for example).
The list of tasks for the selected day behaves much more like a regular book with regards to available actions and options.
Watch
Display tasks that will become due today but are not yet due.
Updated task icons.
Misc
iThoughts documents display the embedded preview when selected.
On iOS 14, Notebooks uses a new inline time/date picker for changing the creation date in info, and for setting the due date when holding a task's icon.
Create eBook fixes an issue with nested ordered lists.
Include Merriweather Font.
---
Notebooks 10.2 is available on the App Store. Should you run into any issues, please let us know.
Notebooks 10.2 for iPad and iPhone