Notebooks 10.2.1 is a minor update which mainly addresses a few issues regarding formatted documents, but it also adds a few nice improvements.
User Interface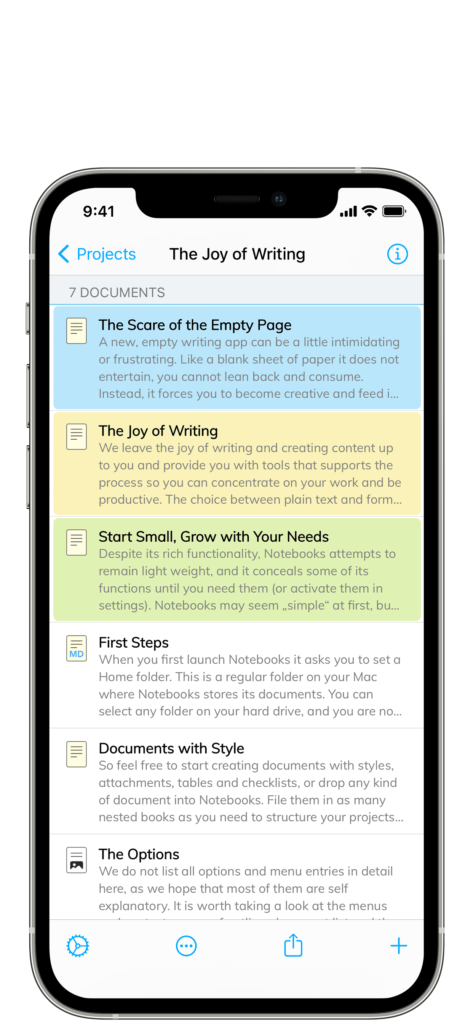 Refined appearance of color labels and selected items in the list of books and documents.
The preview text for documents applies slightly wider line spacing.
Formatted Documents
Formatted documents provide "Select" and "BIU" from the edit (popup) menu.
Links to external apps work as expected again.
Tapping a footnote in a formatted document or Markdown reliably jumps to the target, and no longer makes the document editable.
Plain Text
Plain text documents reliably scroll to last opened position when hyphenation is active.
Markdown
Markdown fixes a rendering issue for fenced code blocks, especially when they contain HTML code.
More carefully paste URLs as Markdown.
We also update the default Markdown converter to better handle edge cases.
Misc
The new timestamp format "13:34" does not adjust to selected keyboard (thus avoiding switch to "1:34 PM" when changing language).
Correctly create PDF from a book's process menu.
Improve reliability of Dropbox synchronization.
More carefully handle attachments when importing Evernote notes.
Add Open Sans font.
Multiple smaller fixes and improvements.
---
Notebooks 10.2.1 is available on the App Store. Should you run into any issues, please let us know.
Notebooks 10.2.1 for iPad and iPhone