Notebooks for Mac 2.3 has a brushed up user interface, is compatible with macOS Big Sur, runs natively on Macs with Apple Silicon, improves Wiki Links and introduces Backlinks, and adds many more improvements and corrections.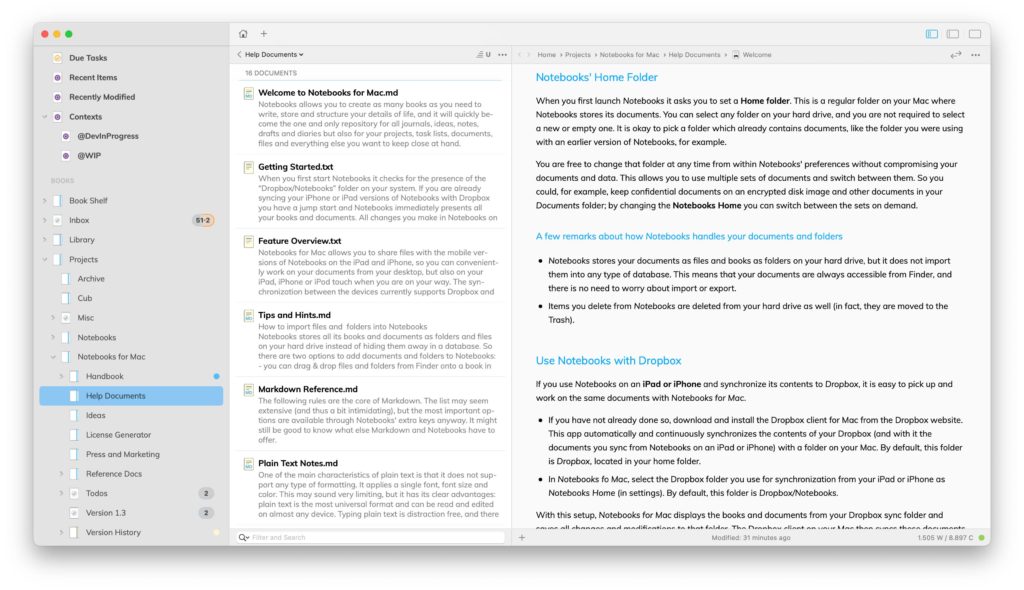 A Summary of What's New
Notebooks for Mac 2.3 contains adjustments to be fully compatible with macOS Big Sur, and it runs natively on Apple Silicon Macs.
The user interface refinements integrate well with macOS Big Sur and make writing and working in Notebooks even more enjoyable. New document and book icons contribute to the new experience.
A new option allows you to create Quick Entries by right-clicking Notebooks' dock icon.
Improved Wiki Links and Backlinks, now with advanced settings.
Refined document styles.
This update also introduces Apple Script Support.
And there are many more new options, settings and convenient actions.
The Changes in Detail
New Functionality
Add a new document by right-clicking Notebooks' Dock icon and selecting Quick Entry. A window opens and allows you to start tying or pasting any contents. The document is saved in your default inbox, or at the top level in case you do not have an inbox selected.
Apple Script Support: You can now use Apple Script to get path, title and url of the currently displayed documents.
Improved support for Wiki Links and Backlinks (see below):
User Interface
Updated app icon to match macOS Big Sur.
New document and book icons.
Refined looks of color labels and selected items in list and outline.
Polished presentation of document list and outline by increasing the elements' spacing. This gives Notebooks a more friendly appearance, and if you slightly increase your documents' line spacing (in settings or info), you create an even "lighter" experience.
Document list shows number of documents in its header.
Reversed the sequence of view mode button in the toolbar to make their usage more ergonomic.
iThoughts documents display a preview thumbnail as icon.
Many more refinements and changes.
Formatted Documents
Much improved typing performance.
Printing formatted documents respects the selected print font size.
Correctly handle opening/closing characters at beginning of a line and at the end of the text.
There is a new action Clean Document to remove redundant styles, which may result from pasting text copied from the web or other apps. Notebooks used to remove these styles automatically, but that had a negative impact on performance.
New setting controls if the first line of a new document is automatically formatted as title.
When adding columns to a table, the table header cells appear at the correct positions.
Plain Text
New option to activate and highlight Wiki links in plain text (with Markdown highlighting enabled).
When opening a text document from search results, all search hits get reliably highlighted and counted.
Tapping Wiki links in plain text tries to find a target or provides the option to create a document, as is now common for all internal links (see below).
Markdown
Update default Markdown converter.
Resolved an issues with fenced code blocks, especially when they contain HTML code.
Fix an issue when the first line starts with "Title:" (which will not become part of Notebooks' document title).
Wiki Links and Backlinks (Plain Text & Markdown)
Wiki links are a quick and easy way of creating internal references to other documents in Notebooks: just add the title of the target document in double brackets. So with [[wiki reference]] you create a link to a document with the title "Wiki Reference"
Notebooks has been supporting [[Wiki Links]] for a while already, and with this update they receive a few corrections and improvements:
Notebooks 2.3 reliably opens linked documents by trying to autocomplete their names if necessary.
When clicking a Wiki link (or any other Notebooks internal reference) and the target document does not exist, you now have the option to create a new document and insert a so called backlink (a link back to the referencing document). This makes it easy to create cross references.
Pasting notebooks:// links into plain text or Markdown no longer produces broken links.
Hold down shift or alt when clicking an internal link to open the target document in new window or new tab.
New setting to activate and highlight Wiki Links in plain text.
Two new options control how smart Notebooks may be when resolving internal links. In the case that a document with the exact title as given in the link does not exist, Notebooks may look for alternatives containing the link in their title, or even in their contents.
An example: Given the link [[ophthalmology]], Notebooks would expect a document Ophthalmology.pdfor Ophthalmology.txt. If no such document exist, Notebooks can resolve the link to the document Handbook of Ophthalmology.pdf, but it could also resolve it to a formatted document which contains the term ophthalmology anywhere in its contents. – This behavior can now be controlled in Notebooks' settings.
Document Styles
Default Theme optimizes the size of images, especially in print.
Scientific + MathJax now embeds MathJax 3.
Scientific + Katex is a new theme that uses Katex for rendering mathematics.
Long links and strings word break at the edge of the screen.
When applying the styles, Notebooks minimizes them so they don't take up too much space (when viewing the source code).
Misc
Notebooks 2.3 no longer automatically triggers Spotlight to reindex the currently edited document. Instead, there is a setting to control the behavior. (There were reports that the automatic trigger lead to performance issues).
More carefully display images and attachments in email messages.
When extracting Evernote notes, more reliably detect and save attachments.
Include Merriweather and Open Sans fonts.
---
Notebooks for Mac 2.3 is available from this website and from the Mac App Store. Users of the non-Mac App Store version of Notebooks for Mac can also take advantage of the automatic update option.
Should you run into any issues, please let us know.
Notebooks for Mac 2.3 Available for Download