Among the additions and improvements in Notebooks 8.8, the new Black Theme is probably the most obvious. It has been created (on user demand) to complement the iPhone X and help preserve battery power on OLED displays.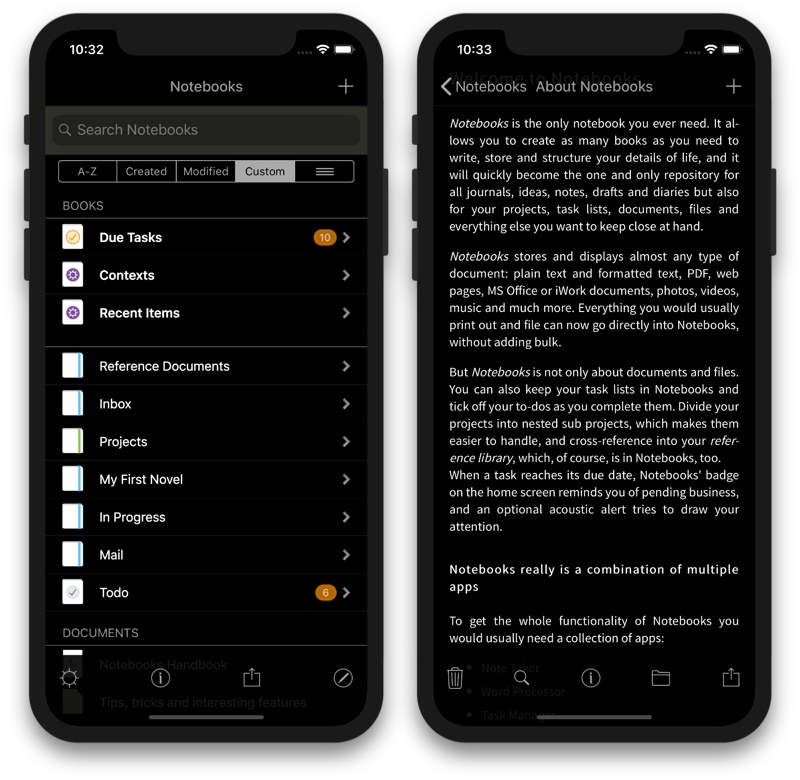 Another change, less obvious, is related to the image picker. While it looks very similar to the previous versions, it has been overhauled to use the latest iOS technologies. As a benefit, it is now able to download photos from iCloud if they are not yet available on the device. Select photos as usual, and if Notebooks needs to download the photo, you see a spinning indicator. Tap the photo again to cancel the download.
While we were working on the photos, we decided to import photos in their original size by default (in contrast to a reduced, medium size).
Other changes are related to Dropbox sync. Now iOS should no longer shut down Notebooks when sync takes a very long time, and in "never synced before" situations during QuickSync the user can immediately decide how to resolve the conflict.
Notebooks 8.8 also contains numerous smaller glitches, regarding eBook creation, presentation of email messages and more.
Notebooks 8.8 for iPad and iPhone available on the App Store