Notebooks 6 – our summer edition – is a major update with a whole lot of additions, improvements, changes and corrections. Many of our users' suggestions found their way into this release, and we want to thank you all for continuously sharing your ideas and requests with us. This is what helps us stay on track.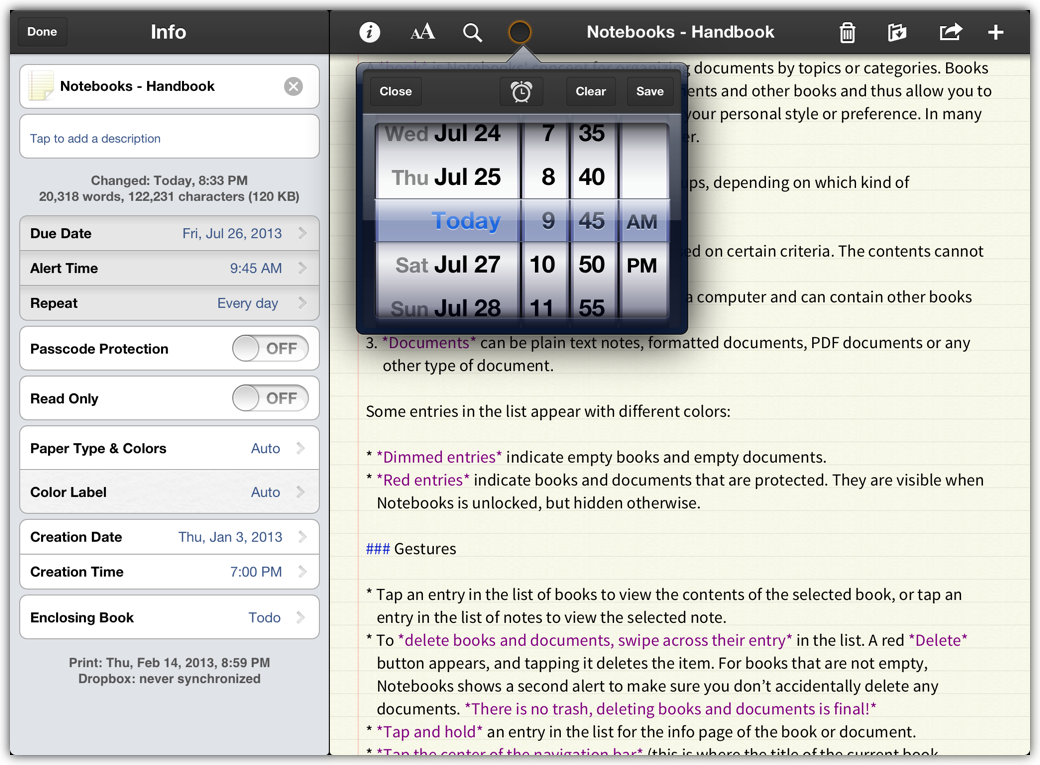 If there is anything in this release that you dislike, chances are high that you find a switch in settings to restore the original behavior. If there is anything you are missing, don't hesitate to share it with us.
The list below contains pretty much everything new in Notebooks 6.
Improved Task Management
Repeating Tasks

Set tasks to repeat at regular intervals, either "when due" or "when done"
Set details in task's info

Automatically extract tasks from document after editing (you no longer need to do that manually)

Activate in settings
Option to save these tasks in your default inbox
Option to add a default due date ("today")
Extract and assign context tags from tasks if available

The task state icon is now available from the navigation bar, too

Tap that icon to toggle the task
Tap and hold the icon to quickly set or change due date and alarm time

Alert time and repeat details are always visible in a task's info, so there is no need to set a due date first; you can immediately set an alarm time or the repeat details
Automatically extract Contexts from a document's Body or Abstract
Assign a context by adding it to the body or abstract of the document; examples: @home, #todo
Assign due date through tags like @20130704 or @2013-07-04
Remove a context by deleting it from the body or abstract
The list of available contexts is managed automatically, too
Context tags can still be assigned manually through "Info"
Activated in settings
Editing Enhancements (Plain Text)
Option to indent lists in plain text (iOS6)
Option to highlight Markdown syntax and HTML code (iOS6) – this makes Notebooks an even better Markdown editor
Correct tab indentation for numbered lists
'>' is handled like a list character (like -, * or •)
Support for '…' (ellipsis) as extra key
"Open in…" with text selected sends the selection to another app
Improved Markdown Support
".md" is now a now document type (news to be enabled in settings) which is saved as plain text but displayed as formatted HTML (the desktop version of Notebooks currently shows these documents as plain text; this will change with the next update)
Documents with extensions .md, .markdown and .text are handled the same way: displayed as formatted HTML, edited and saved as plain text
The new Markdownify action converts HTML to Markdown
Option to disable Combined Markdown, which then produces .md documents instead of .html
Setting to convert existing Combined Markdown to .md after editing
The BIUS keyboard buttons can now insert and remove Markdown formatting characters
Correctly handle trailing hash (#) for headers
Tables: empty trailing row is automatically removed
Accessibility/Voiceover
All buttons and actions are not correctly labeled and a couple of issues related to Voiceover are fixed. Notebooks is now much better usable with Voiceover turned on.
Enhanced User Interface
Flat design for toolbar and buttons; this design is active by default, but can be turned off in settings
The most important actions for books are now directly accessible from buttons
Info view shows/hides in a less distracting way
iPad: Temporarily hiding the left column with a two finger tap on iPad works much smoother and is less distracting
iPad: Changing from fullscreen to column view (and v.v.) in settings no longer requires a restart
iPad: Typewriter layout for editable documents now preserves correct aspect ratio
A new option to always edit in full screen mode
New default font for documents (Source Sans Pro)
Option to use the globally selected font for the list of books/documents, too
Dropbox sync: pull down table of books&documents to sync the current book (shallow sync)
Misc Improvements
Search remembers last selected search scope
When asked for passcode, keyboard can be activated by tapping any of the code fields
Improved handling of Notebooks internal links
Correct handling of links to protected items when NB is locked
iPad: Sketches are further improved
Voice Memos start recording immediately
Option to use HTML instead of webarchives (New from Pasteboard)
Inserting current location adds a Google Maps preview in addition to the coordinates
Added .fountain as editable document format – shown and edited as plain text only, Notebooks does not (yet?) perform any conversion
Show "Abstract" and "Read Only" is available for all document types
Setting to disable pinch&zoom to resize text in plain text documents
After opening an external link from a formatted document, the BACK button appears immediately
Send to … Organize:Pro
Updated "Default Theme"
Various Fixes
Avoid "creeping slowdown" when repeatedly showing keyboard for formatted documents
"Hide Done Tasks" could have accidentally deleted embedded images during Dropbox sync
Playing movies in full screen
Many more minor improvements and fixes
The update for the handbook is delayed due to the number of changes; we're sorry for that.
If you experience any issues, please contact us directly, because this is the most reliably way we can support you.
Notebooks 6 – iPad and iPhone