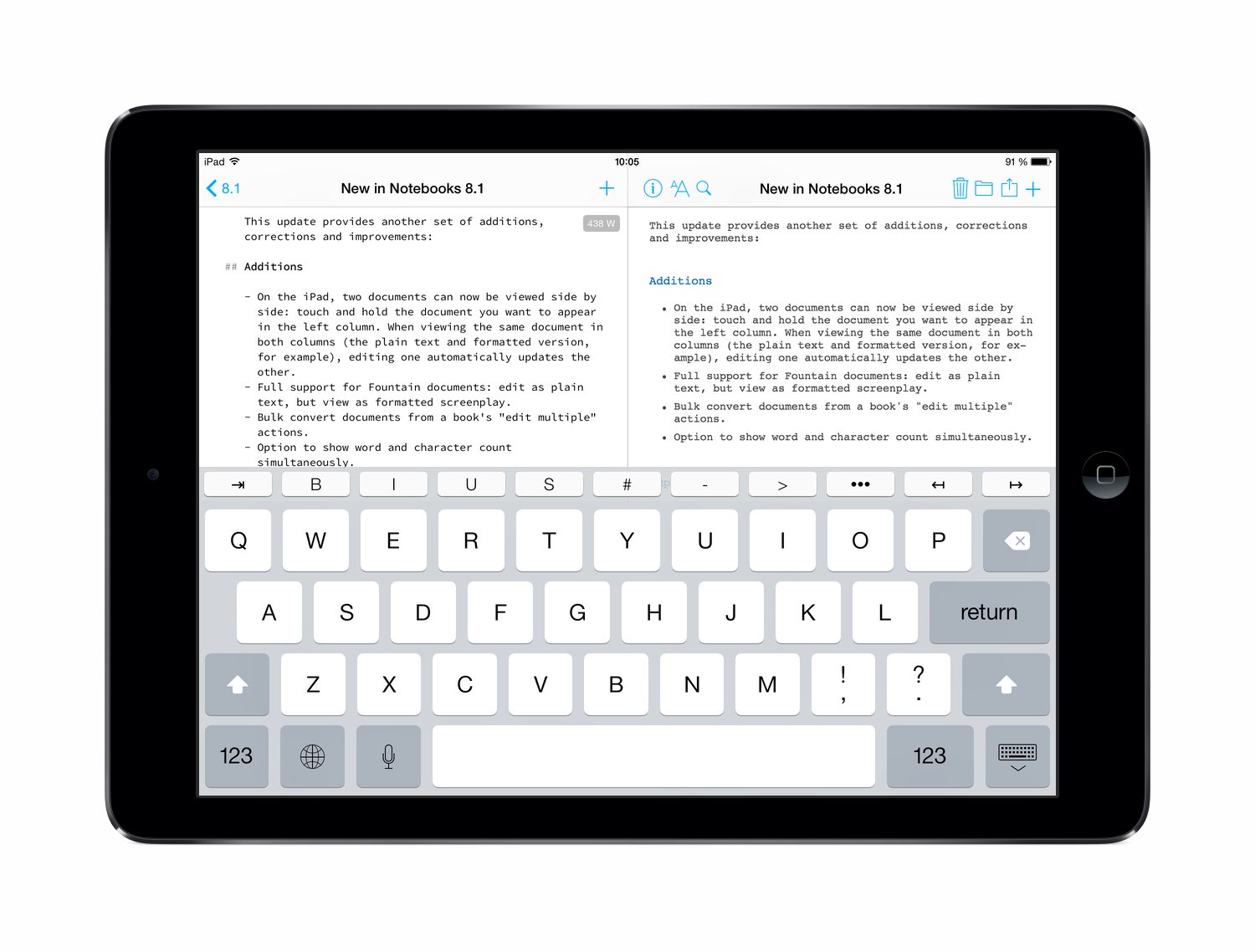 What should have been a bug fixing release actually became a minor update, so we directly jump from 8.0 to 8.1 this time. The main reason is the addition of the two up mode for iPads, which allows you to view and edit two documents side by side.
Apart form that, the update provides a set of additions, corrections and improvements:
Additions
On the iPad, you can now view two documents side by side: touch and hold the document you want to appear in the left column. When viewing the same document in both columns (the plain text and formatted version, for example), editing one automatically updates the other.
Full support for Fountain documents: edit as plain text, but view as formatted screenplay.
Bulk convert documents from a book's "edit multiple" actions.
Option to show word and character count simultaneously.
Improvements
When changing details in WebDAV sync settings, the user now has the option to keep the current sync history. This makes it possible to change server address without losing history.
During Dropbox and WebDAV sync, Notebooks exports essential system files (task details) even when sync system files has been turned off.
PDF Reader synchronizes bookmarks and reliably saves annotations made in "normal" view mode.
Webarchives can now be displayed with iOS Quicklook or with Notebooks' own methods.
When using Touch-ID to unlock Notebooks, pressing Cancel removes the splash screen and asks the user for passcode.
Corrections
Fixed a crash when changing a task's repeat interval.
Fixed a potential crash when creating a new, protected book.
When "auto detect lists" if off, pressing tab does not try to indent current line.
Reliably return to last viewed book after device's auto lock (iPhone).
Fixed an issue when importing websites that contain spaces in the URL.
Fixed a glitch in the list of search results.
"Compile Documents" and eBook creation take better care of image styles.
Fixed a glitch when pasting an image into a formatted document (iPhone).
Sketch: black, gray and white pencil color are now correctly restored.
Fixed the occasional "black screen issue" on iPad when background refresh launched Notebooks while device was locked.
Multiple fixes for iOS 9.
Notebooks 8.1 for iPad and iPhone