Notebooks 8.7 adds support for iOS 11, adds Drag and Drop capabilities and allows users to create documents, task lists and tasks through Siri. It also contains a couple of improvement and corrections – and even a few changes, made necessary by iOS 11. You find all the details below.
Additions
Drag and Drop (iOS 11)
Support for drag and drop in iOS 11 is primarily targeted at iPads; while iPhones allow drag and drop within documents, iPads even allow users to move documents between apps. Here is a brief summary of what you can do in Notebooks:
Drag and move documents to different books.
Drag text snippets, photos, documents etc. from other apps into Notebooks (dropping them into a table adds the items as new documents to Notebooks).
Drag selected text to move it around in the current document (iPad and iPhone).
Drag documents from Notebooks to other apps.
Siri Support (iOS 11)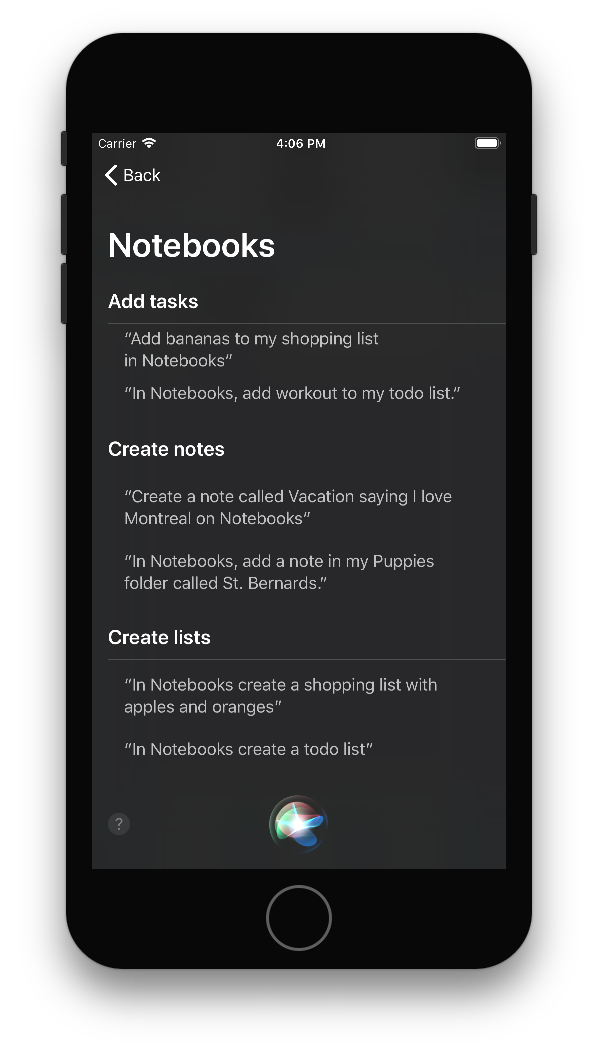 You can now ask Siri to perform certain tasks in Notebooks. This is what you can do:
Add a new document to Notebooks, specifying title, contents and target book.
Create a new task list with a couple of tasks.
Add a task to a specific task list.
When you specify a target task list, just mention its title; Notebooks will search its hierarchy for a list with that title and add the task.
Changes (iOS 11)
iOS 11 adds a few gestures that interfere with some of Notebooks' gestures, and consequently we had to change them. Here is what you should be aware of:
To jump to Notebooks' top level, touch and hold the "Back" button (instead of the current item's title).
To open a document in 2-Up mode (two documents side by side), swipe right across the second document's title in the list (touch and hold initiates drag & drop now).
Improvements and Corrections
The keyboard can be dismissed with s swipe-down gesture.
Quicksync with Dropbox even when "Sync on mobile networks" is turned off.
Formatted documents no longer produce an empty trailing page during PDF conversion or printing when using US Letter.
Hiding the keyboard in a formatted document in portrait mode correctly terminates the editing session.
Context tags that appear at the beginning of a document (1st character) are correctly extracted.
The extra keyboard keys use an improved layout on wide displays.
Voice memos are reliably uploaded to Dropbox (if enabled).
When closing Notebooks, PDF Reader's annotations are reliably saved.
The Markdown conversion better deals with various text encodings.
Document's icons are correctly updated when toggling "Show as Task" or "Show as Task List".
Notebooks 8.7 for iPad and iPhone Available on the App Store