Notebooks for Mac 2 has been rumored for a while – now things are getting tangible:
Notebooks for Mac 2
Public Beta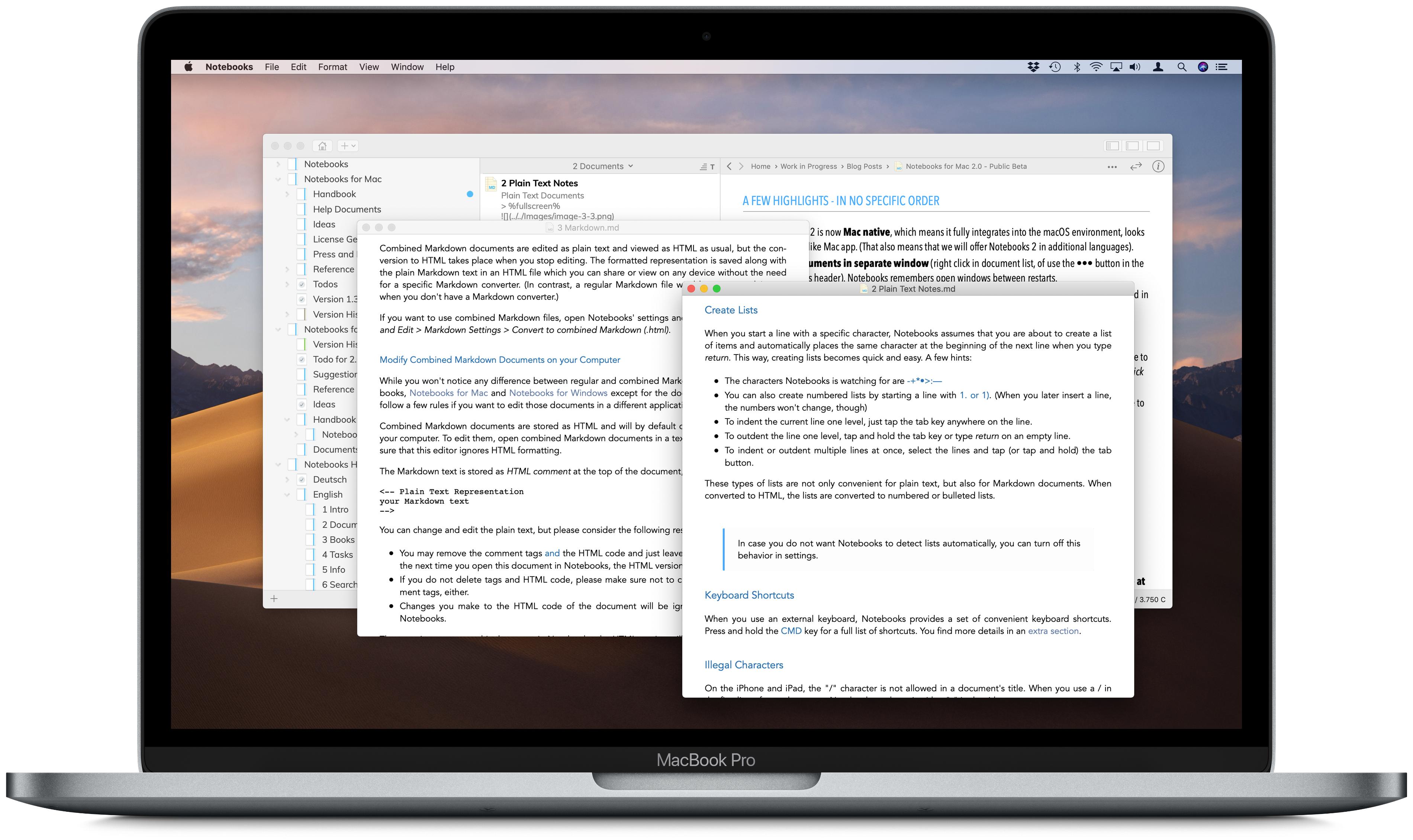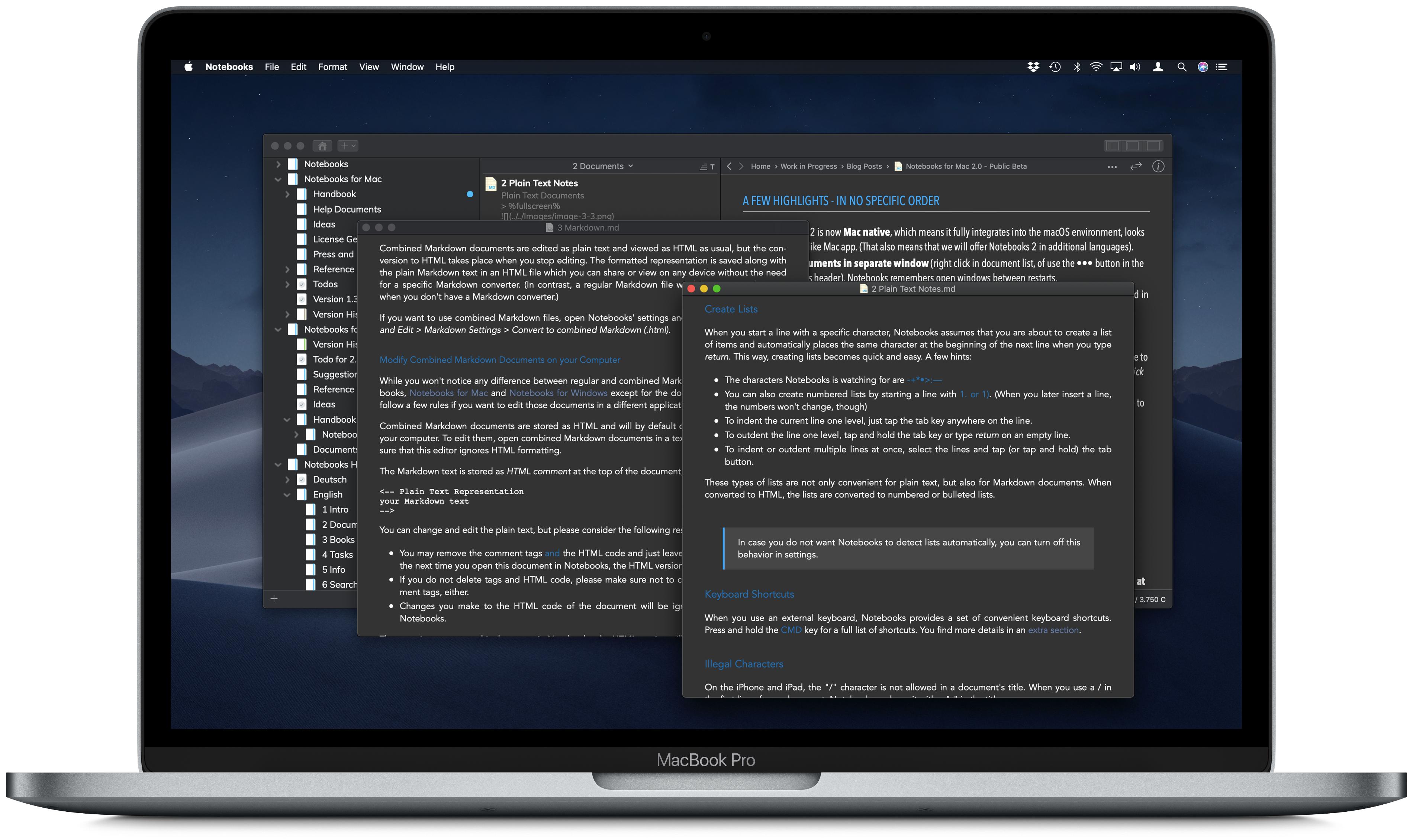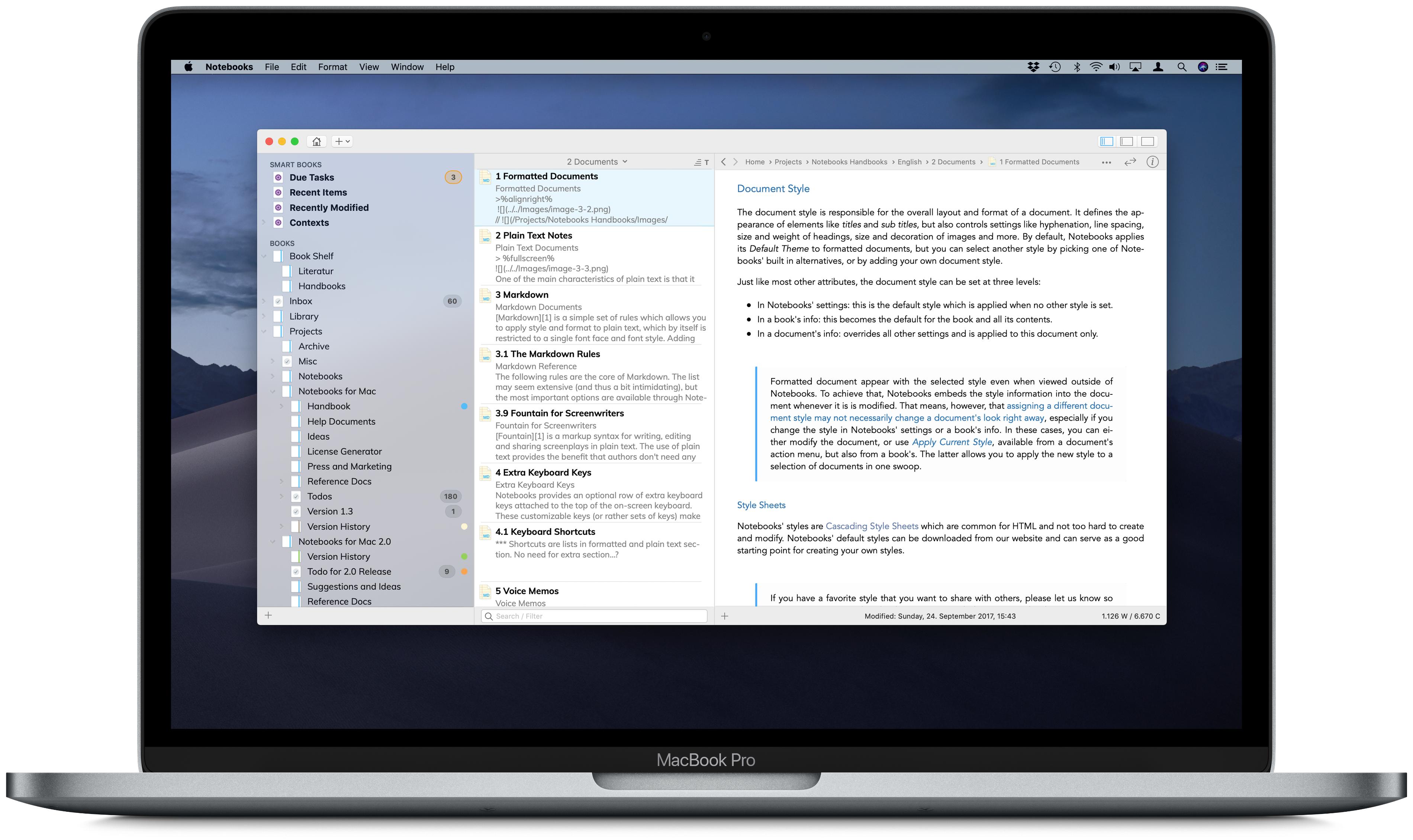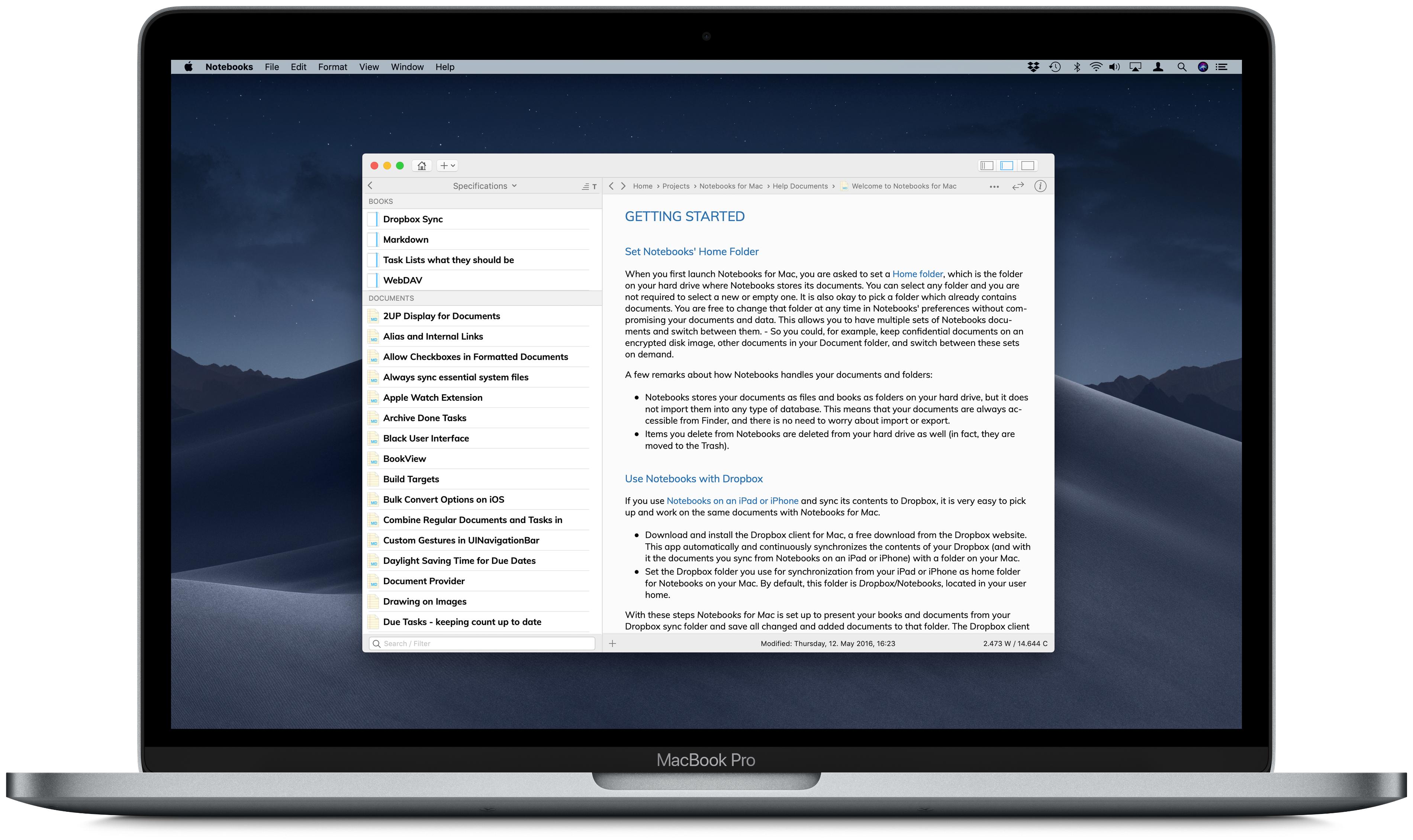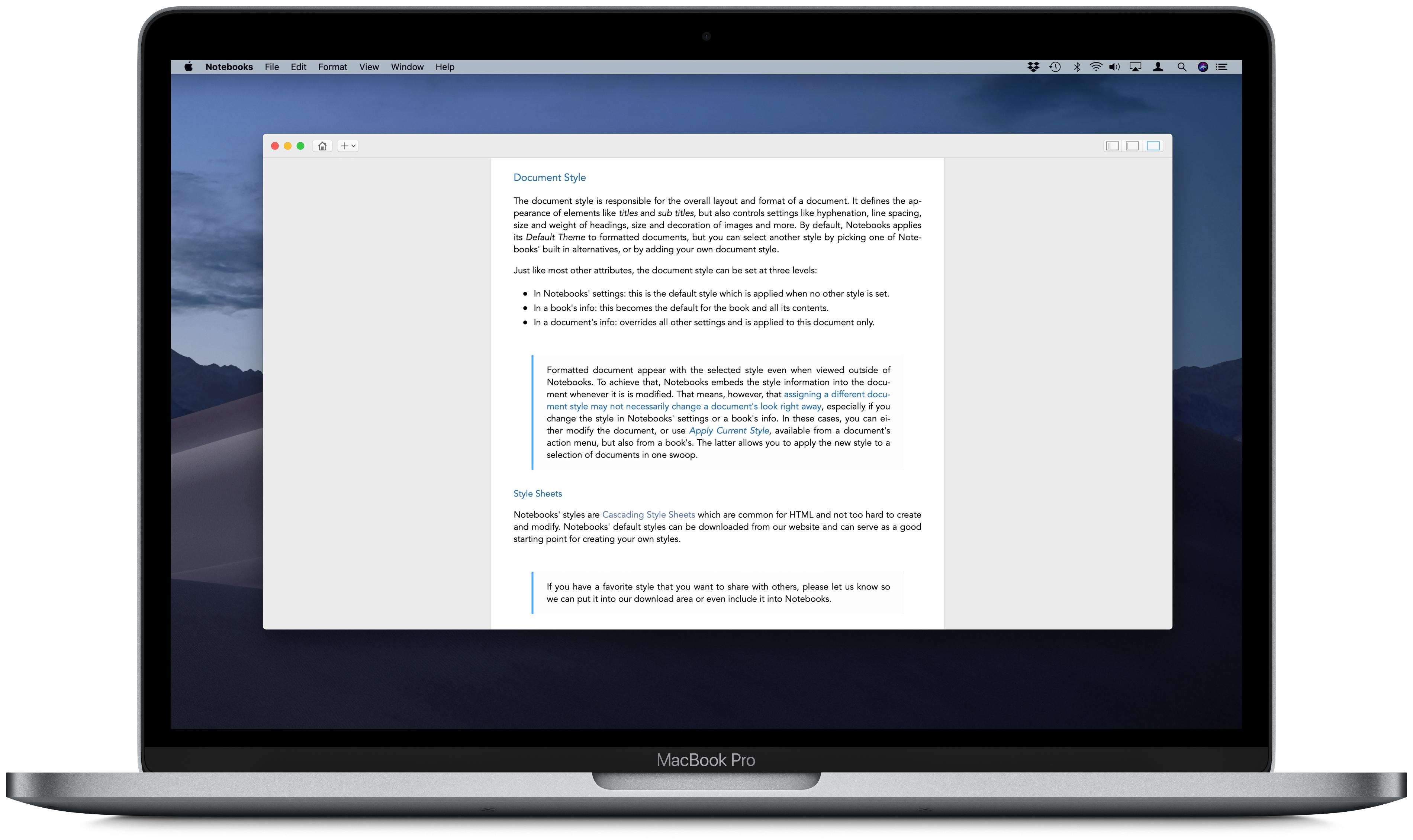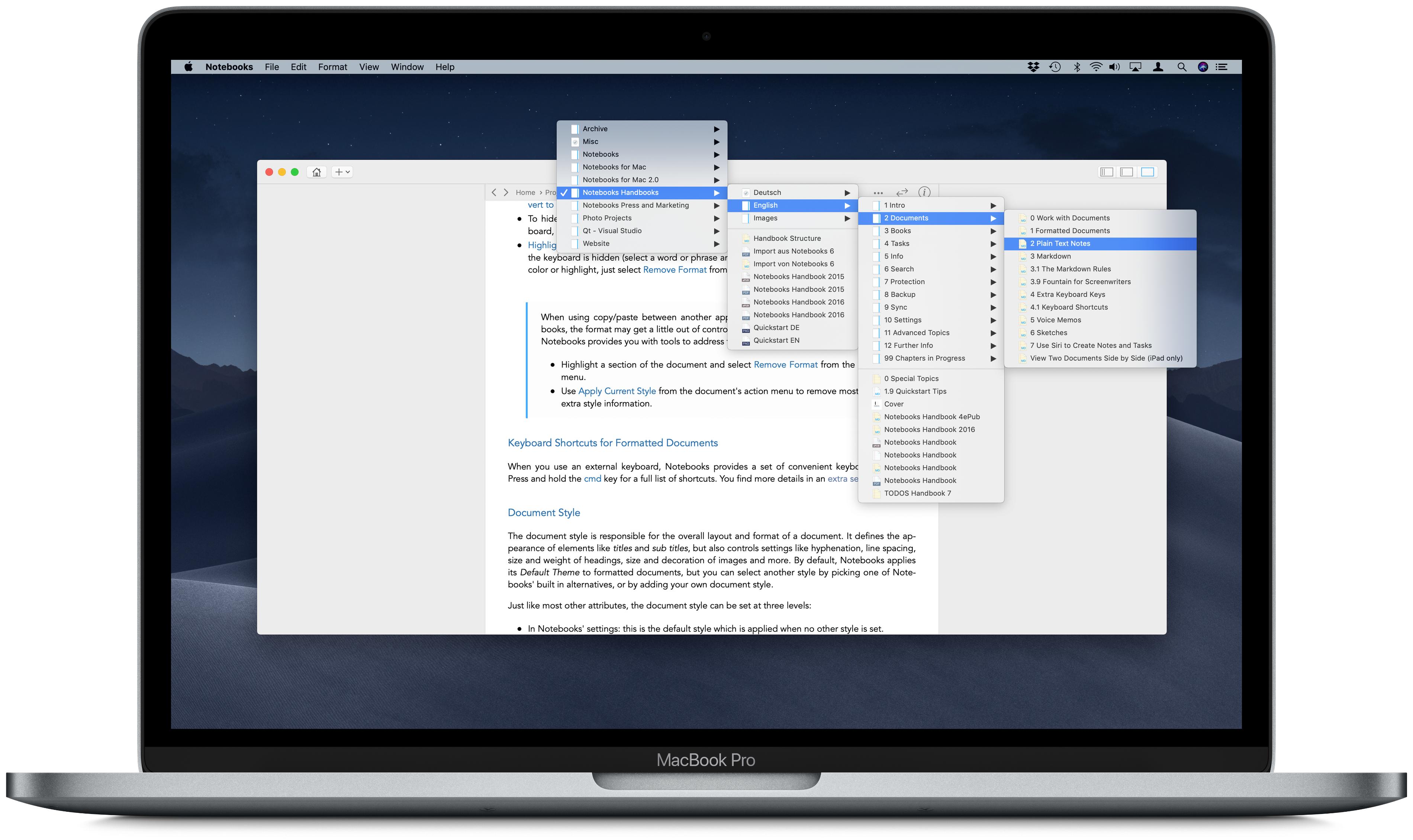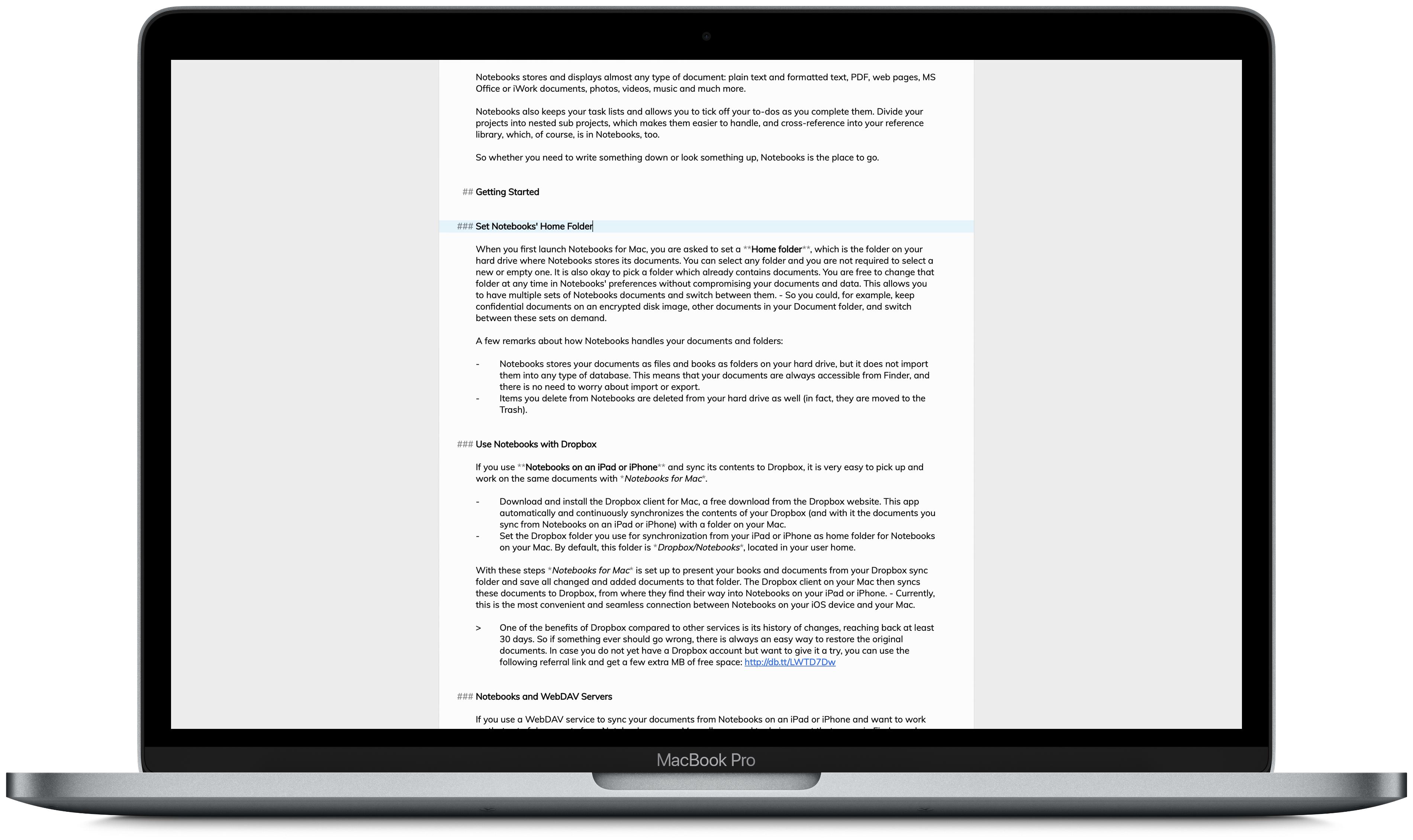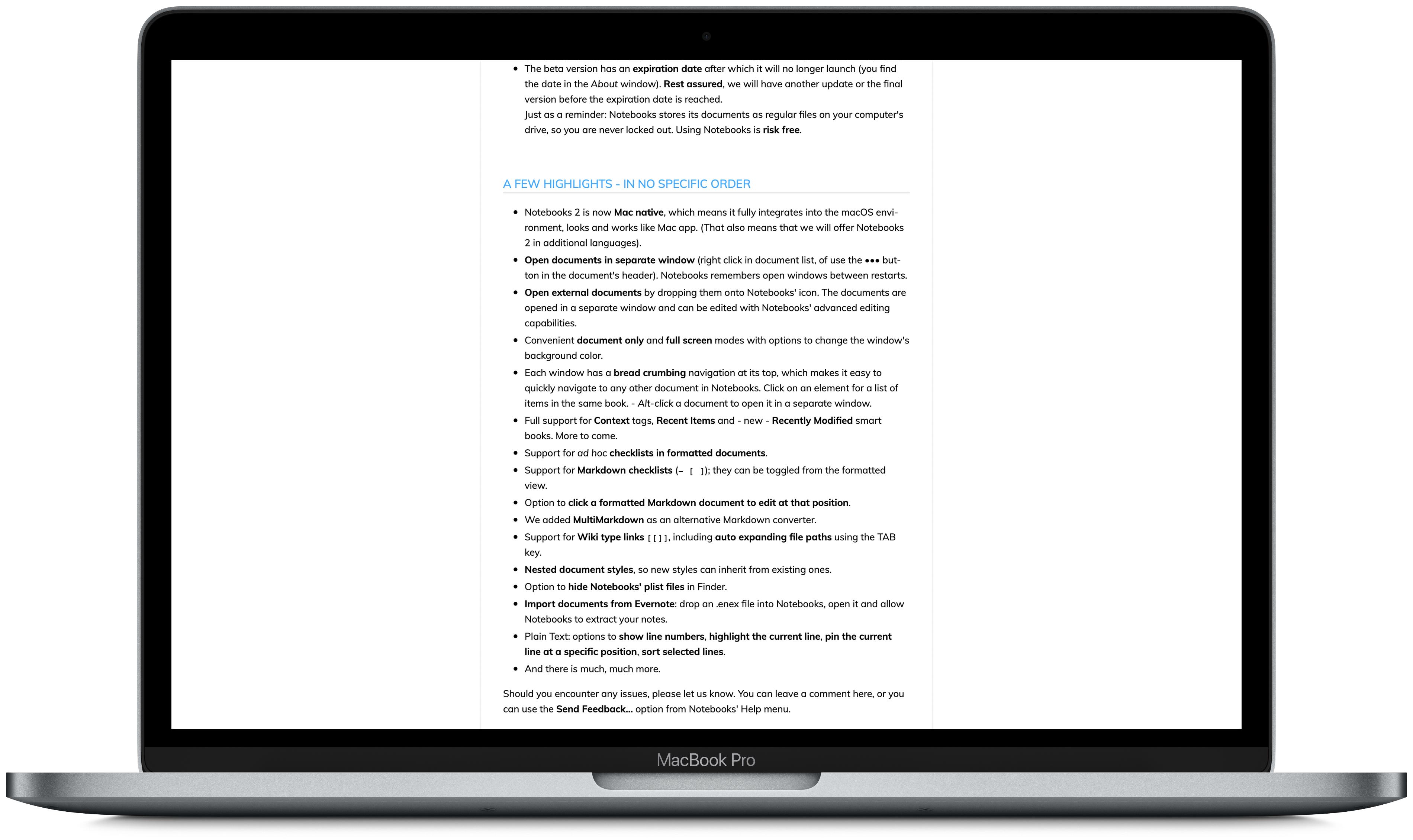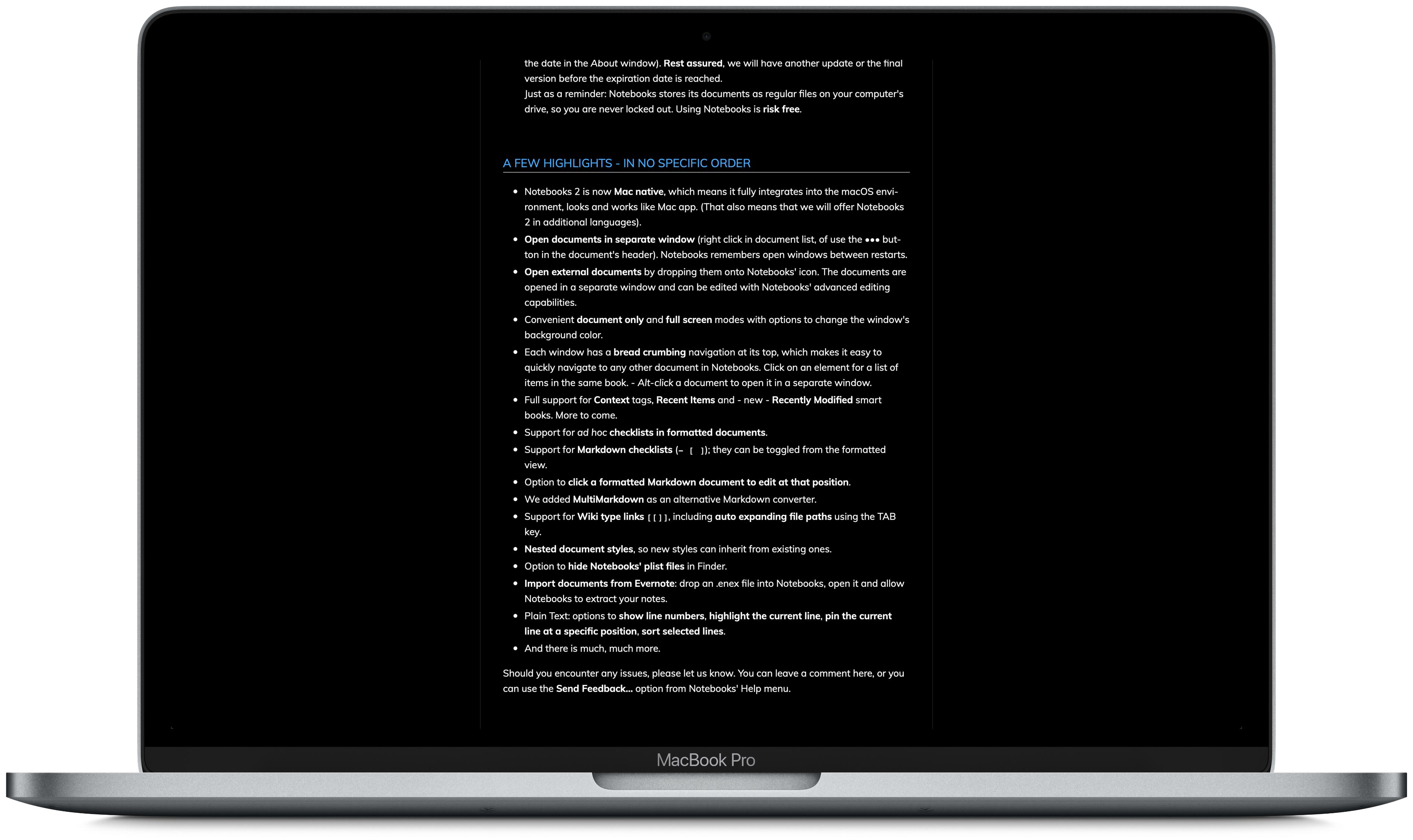 Bringing Notebooks 2 to this level took longer than anticipated (isn't it always like that?), and a few things need to be done before the final release, but we don't want to keep you waiting any longer. We are convinced that Notebooks 2 is stable and reliable enough for a wider audience, so it is time for you to get your hands on the new version while we are hammering out final details.
For the first time in Notebooks' history, the desktop version is ahead of its iOS counterpart as far as functionality is concerned. You find a list of highlights below – and rest assured, Notebooks for iOS will catch up soon.
Help and documentation are not yet final, but Notebooks' in app help (cmd-?) provides a log of changes that should give you a good overview. We tried to keep things simple and intuitive, so diving into with Notebooks 2 should be easy.
Important Details Before Getting Started
Notebooks for Mac 2 requires macOS 10.11 or later – and definitely supports Mojave and its dark mode.
Spotlight should be enabled on the drive holding your documents.
Notebooks 2 includes an automatic update mechanism, so it will inform you when an update is available; you can conveniently install it will a few clicks.
The beta version has an expiration date after which it will no longer launch (you find the date in the About window). Rest assured, we will have another update or the final version before the expiration date is reached.
As a reminder: Notebooks stores its documents as regular files on your computer's drive, so you can always access them. Using Notebooks is risk free.
A Few Highlights – in No Specific Order
Notebooks 2 is now Mac native, which means it fully integrates into the macOS environment, looks and works like Mac app. That also means that we will offer Notebooks 2 in additional languages.
Open documents in separate windows (right click in document list, or use the ••• button in the document's header). Notebooks remembers open windows between restarts.
Open external documents by dropping them onto Notebooks' icon. The documents open in separate windows, and you can edit them with all of Notebooks' editing capabilities.
Convenient document only and full screen modes with options to change the window's background color.
Each window has a bread crumbing navigation at its top, which makes it easy to quickly navigate to any other document within Notebooks. Click on an element for a list of items in that same book, alt-click a document to open it in a separate window.
Full support for Context tags, Recent Items and – new – Recently Modified smart books. More to come.
Support for ad hoc checklists in formatted documents.
Support for Markdown checklists (- [ ]); they can be toggled from the formatted view.
Option to click a formatted Markdown document to edit at that position.
We added MultiMarkdown as an alternative Markdown converter.
Support for Wiki type links [[]], including auto expanding file paths using the TAB key.
Nested document styles, so new styles can inherit from existing ones.
Option to hide Notebooks' plist files in Finder.
Import documents from Evernote: drop an .enex file into Notebooks, open it and allow Notebooks to extract your notes.
Plain text options to show line numbers, highlight the current line, pin the current line at a specific position, sort selected lines, add bottom overscrolling...
..and there is much, much more.
Should you encounter any issues, please let us know. You can leave a comment here, or you can use the Send Feedback… option from Notebooks' Help menu.
Notebooks for Mac 2 – Public Beta